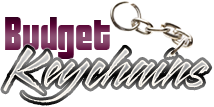 Customized Keychains- Tradeshow Swag On A Budget
Posted by admin
Posted on June 27, 2019
Tradeshows are massive events that offer unbeatable networking opportunities for businesses. To make their brand stand out amidst the endless tradeshow booths, businesses need to think of innovative gifts and freebies. Freebies are the trump cards of tradeshows and you need to stock up a sufficient quantity of custom gifts to hand out to the attendees. However, if you have a modest budget, it is always better to stick to proven and popular gift items like keychains.
Easy to customize to suit your promotional theme, keychains will leave a lasting impression among your audience. Anyone who has keys will love to get a unique and personalized key ring that not many others may have! The big plus- You can buy a different key ring for everyone based on their age, gender or hobbies. For instance, if you are looking for a great handout to promote the golf leagues, Golf Tee Keychains will make a great choice.
Everyone will find keychains useful in their everyday life; people use it not just to keep their keys safe but also as style statements. Even on a budget, you are still able to give everyone a gift that they will find useful. Offered in a wide range of models and colors, these are unique and budget-friendly handouts that are hard to resist.
Get started with some of these best selling models in keychains that will get your message to a wider secondary audience every day.
Metal Bottle Opener with Key Holder will come handy to not just carry keys but to open the beverage bottles as well. Double functionality; double brand exposure!
Laser Pointer With LED Flashlight Keychains & Carabiner:  Your recipients will find it useful during business presentations, nights out and road trips. It functions as a laser pointer and LED flashlight while the carabiner makes it easy to attach it to backpacks and purses.
Bottle Cap Shape Tape Measure Keychains It is not just a keychain but a tape measure as well for all those DIY tasks. These brilliantly colored plastic keychains are the last words in budget handouts.
Sturdy and budget-friendly, Square Acrylic Keytags win hands-down as tradeshow items.  Your brand and message imprinted on these well-retained giveaways will make consistent impressions for a long time to come.
Attending a sports-themed tradeshow? Check out these Mini Football Stress Reliever Keychains that will let your prospects celebrate their favorite game, beat stress and carry keys- all at once!
Do you plan to use keychains as your tradeshow items? Share your thoughts