Privacy Policy
Our Privacy Commitment
At Budgetkeychains.com, we know the importance of protecting your personal information. We want to make every customer of ours be safe and secure while shopping from us. This Privacy Policy describes practices for collection, disclosure and utilization of personal information that you have entrusted to us.
What Information does BudgetKeychains.com Collect?
At Budgekeychains.com, we usually collect two types of information which are personal information and non-personal information.
Personal information refers to information that is typical to an individual or it is used for implying information about an identifiable individual. We may collect personal information such as:
Contact information - e.g., name, contact address, contact numbers and email address;
Transaction information - e.g., method of payment and credit or debit card number.
Non-personal information
Non-personal information doesn't identify you as an individual but only as a passive participant for our service improvement. For example:
We may seek your approval to participate in new surveys or some other service enrichment programs running on the website.
We may collect certain non-personal data such as type of browser you are using or the referring URL.
We may collect and manage customer information in a strictly non-personal and summative format for drawing conclusions at the end of a research. We may, for example, summarize data to determine types of consumers on our website, most sold item, etc.
How is Your Personal & Non Personal Information Used?
We may use the personal information collected from you for a number of purposes such as: -
Fulfilling product orders or request for services or information
Detecting and protecting against fraud or any other misleading errors
Processing exchanges, returns or layaway requests
Building our regular customer lists
To build reliability to our business (through testimonials)
To communicate about special events, surveys, festive promotions, etc.
To tailor our online content based on your preferences and interaction with us
Tracking and confirming online orders
To track customer behavior and preferences to improve shopping experience
To conduct research and analysis
To streamline the business processes and customer behavior on the website.
Your Consent is Always Important to Us
Budgetkeychains.com collects information from its customers for smooth business transactions, but its usage or disclosure is governed by strict policies.
We don't use or disclose your personal information to any third party without your knowledge and consent.
We only share your personal information without your consent only when required for legal actions, government purposes, shipping and merger/acquisition or customer interaction such as positing testimonials including customer's age, name or location on website for improving conviction.
Information that We Collect Directly from You (Apart from the above mentioned)
Our goal is to ensure that a customer is completely satisfied with the purchase at Budgetkeychains.com. If in any unlikely condition they don't like our product or feel that it is not the same thing which they have earlier ordered, then they may approach us. We will ask for their personal information such as name, contact address and telephone number to avoid fraud or for keeping them informed about exchanges. We may also ask customer to produce some validity proof for verification purposes.
We know being a prominent online budget keychain supplier, our website is being heavily browsed. However, for accessing some special features or functions or to order from us, you are required to furnish certain personal information such as name, contact details, contact numbers, etc. We will be using this information to create your account, contacting you and responding to your queries, orders or to monitor your experience with us through customer reviews or testimonials.
If you prefer shipping an order to some third party living in another state or place, then you represent and warrant that you have obtained necessary permission from the third party to allow us to collect, use and disclose their personal information for fraud prevention and order processing purposes.
We encourage customers to voice their views on the product or service or any other functionality on website. These reviews are seen by all customers who hit the site with or without purpose, so please use discretion while posting your reviews. We suggest that you don't offer too much information while voicing your concern.
Sign-Up for Newsletters or Updates
Budgetkeychains.com indulges in newsletters and promotional communications with its customers from time to time. You may choose to stop receiving communications from us at any time as per the discretion. A link is included in each marketing mail or communication that you receive which you may unsubscribe by clicking on "Unsubscribe." Our subscriber list is never shared or sold to other parties.
Participate in a Contest or Promotion
We run contests and promotions from time to time to encourage customer participation. Customers who wish to be part of this promotion are asked to furnish their contact information as well as additional optional survey information (for example, product preferences). Personal information that we collect during such special promotional programs is only used to administer the contest and inform you results, if they are in your favor.
For research and analysis purposes, we request customers to register their thoughts without furnishing their identity. All contests and promotions run by Budgetkeychains.com are administered by this Privacy Policy.
We have never shied in serving customers and our customer support centers are serving from 8am-8pm on any day to solve customer queries, doubts, concerns or complaints. Whenever you contact our call center, our customer service executive will ask your personal information before verifying or clarifying your query.
Information that We Collect Automatically
Cookies
Website tracking information
Protecting Information
Securing your personal information is of high priority for us. We strive hard to maintain safeguards and following latest security standards to protect the information. All electronic records furnished by customers during purchases or other events are secured with limited-access servers and are guarded with technological tools like firewalls and passwords. Our employees are always trained on importance of maintaining secrecy and security with personal information furnished by customers.
Technologies Used – SSL & Password Protection (we never send unsolicited communication to any customer's personal ID requesting them for password or updating any other account credentials).
Verifying Information
All customers who have created an account with us can correct, update or verify their personal information by logging into the system from your home computer or other secured systems.
Removing Information
We will retain any customer information as long as they are required for legitimate business and legal purposes. We destroy your information if we feel it is not needed or remove it completely if there is any threat to the integrity of information or our business.
Contacting BudgetKeychains.com
You can reach out to us at
Budgetkeychains.com
100 Capitola Dr
Suite 100
Durham, NC 27713
E-Mail : info@Budgetkeychains.com
Phone: 855-539-8247 (Toll Free)
Fax : 631-609-3849
*To accommodate changes in product line, technology or legal terms, this Privacy Policy may change without any prior notice. We may change, add or remove portions of this Privacy Policy to match the changed requirements. We encourage all our customers to review this Privacy Policy periodically. Each time you leave your personal information on the website or use our services you agree to adhere to this Privacy Policy terms. Whenever we update the Privacy Policy the last date of update will be indicated.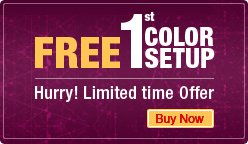 Product & Design Quality -I am very pleased with the design and print quality on the key chains.
Customer Service & Shipping - The proofs were handled promptly and accurately.
Kenney Gulley
Product & Design Quality -this is an amazing product
Customer Service & Shipping - customer service was impeccable and shipping was very fast
Simona Vasu
What if I don't have an artwork?
If you don't have an art work, our team would be happy to help you in creating one from sketch.
Do you offer free shipping?
Yes, we do offer free shipping on selected printed keychains. You can avail free ground shipping to all states within Contiguous USA.