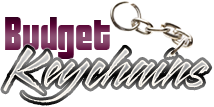 Custom Acrylic Keychains- Get Your Message Out Loud And Clear
Posted by admin
Posted on August 18, 2017
Keychains need not always be hard on your hands to be strong and long lasting. Check out these custom acrylic keychains that are soft, flexible yet a durable way to spread your message. Still thinking? Here are a few advantages of these acrylic keychains that will make it a perfect and budget friendly option for your business promotions.
Acrylic doesn't hold heat
It is durable and well suited for daily use
Can withstand wear and tear
Keychains are destined to bear the rough and tumble of daily lives. Be it in the table drawers, car dashboards or pockets, keychains get squished and stuffed into all available spaces many times a day. To make the keys safe and well organized, keytags should be durable and resistant to wear and tear. There can't be anything more embarrassing for your recipients than to carry a faded and damaged keychain. If you thought quality custom keychains remain unaffordable for budget marketers you could be in for a surprise! Check out these acrylic keychains that are ridiculously cheap yet durable and long lasting. Customize these with your brand and message to leave a personal touch and to make your brand part of the daily lives of your recipients.
On an average, a family needs atleast 4-5 keychains for their keys of home, car and office; not to forget the duplicate keys. The immense popularity of custom keychains even in this robotic age of keyless security is simply amazing. Apart from a handy way to keep the keys safe and easily accessible, keychains make wonderful collectibles as well. So, if you are planning to use custom keychains as tradeshow handouts, mailer campaign items or back to school gift items, look no further than these custom keychains.
Take a glance at some of our best selling keychain models that you will find interesting
Custom Printed Rectangle Acrylic Keytags: This trendy key ring has a neat and large convex imprint area to carry your logo and message that will never fail to grab the attention of anyone who sees it. It makes a perfect promotional item during product demonstrations, trade shows, conventions and other mass promotional events.
Custom Printed Oval Acrylic Keytags: Oval shape can show your message better and more conspicuously than most other shapes. Customize these attractive keytags with your brand and message to make it a potent marketing tool. It makes a great choice as handouts for school unions, team spirit items and fund raising items among others. Get yours today!
House Shape Acrylic Keytags: A home evokes a feeling of security and warmth; likewise these house shaped acrylic keytags will make a great handout for realtors to promote their projects. The easily recognizable shape will make it easy for your recipients to relate with your brand. Drive home your message with least effort with these custom keytags.
Given a choice, which of these custom keychains will you be using in your promotions? Share your thoughts at the comments section to join our conversation.