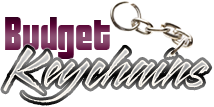 What Makes Keychains One of the Most Popular Promotional Items
Posted by admin
Posted on January 10, 2023
Ever wondered what makes Keychains one of the most gifted promotional items in business world? Even in today's era of high profile promotional events and guerilla marketing methods, custom keychains make effective marketing tools to spread your word.
A creatively designed keychain that bears your logo and artwork will be a perfect representative of your brand and an effective way to engage your customers with your message. Highly useful and popular, custom keychains will easily make your brand stand out while enhancing your brand reputation.
Why Keychains?
Budget friendly
Custom keytags may have a low sticker price, which makes them affordable even for small businesses and low budget marketers. However, being budget friendly doesn't mean these are of low quality or poorly made. So, if you are planning a mass event like mailer campaign or trade show on a modest budget, look no further than these crowd favorites of custom Keychains.
Choices galore
Keychains are available in a wide variety of styles and material choices, which makes it easy to choose a model that will match your needs. As your aim is to leave a positive impression in the minds of the audience, you can choose models that will suit the preferences of your clients. For instance, classic models like leather keychains and metal Keychains will make a great choice for your high value clients and promotion of corporate events However, when you have a younger audience group to cater to, choose something fun like novelty keytags. Floating keychains or soccer shaped stress reliever keychains are some of the many models that you can consider.
High practical value
Keychains are obviously a daily use item that everyone needs. So, no matter who your target audience is or what your budget is, custom Keychains will indeed make a great handout that is hard to resist.
Customization is the key
Customization is not just about placing your message alone but is more of making a real connection with your audience. Custom Keychains leave a lasting impression in the minds of the audience; and make a tangible reminder of your brand. Every time your prospects reach out to their favorite keychains, your brand will make a connection on an emotional plane.
A well customized keytag will even make a great conversation topic for your brand among the friends of your recipients. It will also evoke a sense of curiosity in the minds of the audience, and take your message far and wide.
Less is more!
Make sure to put only the most essential information on keychains because it has only a small imprint space . Overloading it with too much information may spoil the appeal of the product. Moreover it could leave the audience baffled and make it difficult for them to understand your message. So, marketers should make the clever use of the available imprint space for the best outcome. Ideally your message should not exceed one-third of the total imprint space.
Besides, make sure to adopt a uniform pattern in the color and font size to make it visually appealing and make it reflect with your brand image.
Choose value added models
Choose multifunctional models like bottle opener Keychains or flashlight Keychains in place of ordinary Keychains. More the utility more will be your brand exposure. So, whenever they use it to carry keys or pop the top of bottles, your brand becomes their talking point.
Have you been using key chains as your promotional items? Share your thoughts with us on our Facebook page to join an interesting conversation.