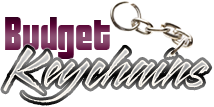 Promotional Keychains Make A Great Handout To Thank Your Clients
Posted by admin
Posted on September 18, 2018
Looking for the best handouts to thank your clients? Look no further than these eye pleasing and frequently used items of keychains that have the potential to expose your brand hundreds of times each week! Businesses can brand these popular items with their logo and message to turn them into gifts that their audience will like the most.
From our experience, one thing that we at budget keychains know is that custom keychains make a hugely popular gift item among all types of consumers. One of the best ways to promote your brand and thank your clients, custom keychains take up only a small space, which makes it easy to store for businesses planning mass promotional events like tradeshows. Light weight, compact and offered in a range of trendy models, keychains will get a lot of exposure because everyone needs to use keys many times in a single day.
Promotional keychains can be customized with eye-catching and attention grabbing designs to even make it a great souvenir or fashion accessory. Branded keychains suit every genre of audience including men, women and children and are well suited to promote all types of events and brands including tradeshows, store promotions and conferences among others. Fashionable and functional alike custom keychains enjoy a steady fanbase.
 Give your Customers More Than Just a Keychain!
Custom keychains are offered in a range of models like bottle opener keychains, carabiner keychains, flashlight keychains and multi tool keychains among others, which double pull as various other daily use items other than just keychains. Thus custom keychains can be fun and quirky as it brings together a bottle opener, promotional stylus, flashlight or stress relievers. Crafted in a range of material choices like metal, leather, plastic and vinyl, custom keychains can be used in various ways and events to suit the specific needs of your audience.
People would love to wear their keys around their waist or around their necks or wrists. Carabiner keychains will make a perfect choice for such an audience. Metal and leather keychains make executive gifts for professionals and classic customers who would love to flaunt their expensive tastes wherever they go. Each of these keychains exposes your brand in a different way.
Custom keychains are simple and attractive and are offered in shapes you can leverage to raise awareness of your brand or events. For instance, home shaped keychains will make a great gift choice for realtors during their open house events while a bicycle shaped keychain will make a great awareness gift to promote eco friendly events.  Customize it with your own design and message to make it a highly personalized gift item that will earn the attention of everyone around.
Have you been using custom keychains in your promotions? Share your experiences with us at our facebook page.