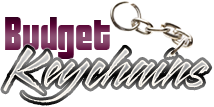 5 Ways How Custom Keychains make Lasting Business Relationships
Posted by admin
Posted on January 8, 2020
Building a successful business is more about customer retention and loyalty. Did you know that it is 50 percent easier to sell to existing customers than to a new one? So, what is the best way to keep your customers impressed? It is indeed popular and budget friendly gifts like keychains!
Why Customized Gifts?
Personalized gifts that bear your logo and message will make your recipients feel good and loyal to your business. One of its type, keychains are truly special and stand out from the ordinary crop of generic gifts. Every time your recipients use these logo items, they will be reminded of your brand and message.
Handy gifts like promotional keychains can mean a lot your customers. Here's why.
1.Brand impressions
Giving a gift could be dream come true for the customers if you pick up a gift that will satisfy them. Make sure to know the preferences of your target audience by coming up with a gift that will satisfy them.
If you are not in a position to carry out an extensive market research to know what is in the mind of your audience, you can play safe by giving out popular handouts like keychains that  are retained for a long time. Keychains are thoughtful and useful gifts that will guarantee that your recipients remember you.
Build Customer Loyalty
Strong customer relationships make the bedrock of any successful business organization. Customized gifts are a great way to do that. Useful handouts like keychains will maintain a connection with people and keep them coming back to your business.
Reports show that around 40% of customers feel more engaged with a brand when they use their promotional products – even if it happens to be small or budget items.
Use Keychains As Incentives
Freebies make a great incentive for customers to come back to your business more often. Every time they use these logo items, they will be inspired to make a purchase or refer a friend.
Show Your Appreciation
Custom keychains can be used to convey your appreciation to your regular customers and their loyalty. It will go a long way in letting your customers know that they are appreciated, which can make a lot of difference in the world of business.
Extended Marketing
A custom gift imprinted with your logo will make a long lasting marketing tool that will continue to make brand impressions for a long time after they get it. Every time they use these logo items, your brand will be displayed not just among your audience but also the people around them.
Gifts like keychains are likely to be put on display as people carry it wherever they go. It is another trump card of these logo items. So, what are you waiting for? Pick up a model that suits your needs, customize it with your message and Voila you have the hottest gifts in town!
Share and Enjoy