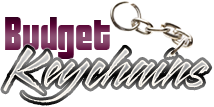 Wholesale Keychains- Get More Value For Your Marketing Dollars
Posted by admin
Posted on March 13, 2019
Promotional products keep your brand in plain view of your audience thereby enhancing the brand recall and exposure. The best promotional products should ideally be easy to use and carry. How about key chains? These products are something everyone needs, which means your brand on these will be seen, many times a day- not just by the recipients but also by everyone around.
Keys play an important role in everyone's lives and so branded keychains assume a lot of significance. Every time your clients use custom keychains to open their door or filing cabinets, they will be reminded of your brand. Keychains imprinted with your brand and information will spread your word among potential and new customers.
Personal accessories like keychains are lovable promotional items that are hard to overlook. Budget friendly and light weight, keychains make great handouts during tradeshows or mailer campaigns. Every time your recipients get these tools they will be reminded of your brand.
Keychains are the most useful products in every part of the world as part of security. These are not gender specific or season specific, which means these can be handed out anytime or anyone- Result- Life time branding opportunity at easy rates! Keychains also make stylish personal accessories that are hard to resist. Your brand on these will get a lot of attention as your clients show off these unique logo items that are a cut above the ordinary keychains.
Leather keychains will make a classic choice to consider. Deboss your brand and message on these timeless items and notch up your brand visibility;  keychains are simple and budget friendly items, which make them well suited for mass promotional events.
Metal keychains are great as corporate gifts and milestone handouts. Your brand and message imprinted on these keychains will get a lot of attention. Looking for something fun? Floating keychains will make a great choice. These are ideal for promoting cruise holidays and maritime businesses.
Multi functional keychains that include features other than that of a keychain is another choice. Some of the popular models to consider include bottle opener keychains or flashlight keychains that will not just work as a key chain but comes handy in popping the top of the bottles or as a handy source of light. Your recipients will have multiple reasons to use these keychains and your brand will get multiple impressions! Win- win
So, how do you rate the experience of using custom keychains as promotional items? Share your thoughts with us at our facebook page to join a conversation.