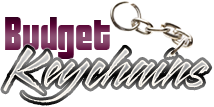 What Makes Custom Keychains Formidable Marketing Tools
Posted by admin
Posted on March 26, 2018
Custom keychains make popular handouts to get your message out. The low cost advantage makes it a hot favorite in mass promotional events like tradeshows and mailer campaigns. Keychains are everywhere; nobody can resist these daily use items that come handy in keeping their valuable keys safe and well organized.
Even in this robotic age of biometric security system, an overwhelming populace relies on the old school security method of lock and keys. Let's be frank about it. The best way to carry the keys is undeniably keychains. Customize these with your brand and message to make it impressive and long lasting tokens of your brand. Every time these keychains travel with the recipients your brand will get a lot of attention.
Keychains are popular
If you are not sure about the specific tastes of your audience, keychains will make a great gift idea. Custom Keychains are never trashed and get used for a long time thanks to its high functionality. The more functional your custom gift is the more will be your brand impressions.
Versatile and gender neutral, keychains can be used effectively as tradeshows swag, store promotional items, brand boosters and more. Use it alone or as part of the gift bag item to get maximum benefits.
Light weight and easy to distribute, custom keychains are well suited as mailer campaign gifts. Recipients prefer compact gifts that are easy to carry and store. So, keychains will grab a few brownie points in this department as well.
Choices galore
Choose custom keychains that complement your business line. For instance a bar or night club will find bottle opener keychains a perfect choice whereas a maintenance service company can employ flashlight keychains as their promotional items. A trial and error method will help you determine the impact that various keychains may have on your potential customers.
Popular keychains will help you reach to a wider audience without breaking your budget. The best part is that when you use custom keychains as your promotional item you don't need a huge warehouse space to store these items.
Choose uniquely shaped keychains that will convey your brand effectively. Can there be a better choice than these Apple Shape Chrome Metal Key Holders to promote fruit stalls and farmers markets? In a single glance, the recipients will be able to relate with your brand that too without you even relying on tons of promotional texts. These attractive keychains will never fail to make heads turn and will stand out in the bunch of keychains that your customers juggle in their everyday lives.
How do you rate the promotional potential of custom keychains? Share your thoughts at the comments section below to join our conversation