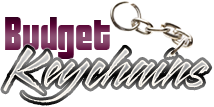 Imprinted Keychains – Handouts That Ensure More Value For Your Promotional Dime
Posted by admin
Posted on March 27, 2019
Looking for a custom gift that offer more value than their cost? Keychains are perfect examples. These logo items may have a low sticker price but they offer a high value for your recipients in terms of utility; and you get more value for your promotional investment. Win-win!
To make your customers feel well appreciated you need gifts that are truly worth. Gifts evoke a beautiful feeling of reciprocity in your recipients that will subtly inspire them to support your brand. However, not all gifts are alike. Practical gifts that your recipients can actually use in their lives are the most popular and that is what brings keychains to the center stage.
Ideally, the cost of promotional gifts involved should not be more than 3% of the overall brand building activity. By using these reasonably priced and highly useful gifts like custom keychains you can stick to your budget all the while pulling off a successful campaign.
Keychains are versatile
Custom keychains are as popular as party favors as business gifts. A lot of party planners and brides have started using custom keychains to impress their guests and leave a beautiful reminder of their special day. Offered in a range of interesting shapes, novelty keychains will make ideal favors. From flashlight keychains to bottle opener keychains or heart shaped keychains and more, there are a lot of options to choose from. Every time they use these everyday items they remember your special day; best part- they will also be inspired to talk about the wonderful time to their friends and family. The best part keychains make gift that will please every genre of audience irrespective of age or demographics. Busy brides looking for a perfect gift on a budget can choose imprinted keychains.
Timelessly Popular
Custom keychains never go out of trend. Even in today's digital age people rely a lot of keychains to keep their keys safe and well organized. It even makes a smart indicator to make out the different sets of keys on a busy morning for most people. A family will have to manage atleast 6-8 keys on an average. Misplacing or losing even a single key can create havoc and upset the daily routine. Your brand and imprinted on these daily use items will get a lot of exposure; that too without being intrusive!
Are you planning to use keychains as your promotional handouts? Do share your thoughts with us at our facebook page to join and interesting conversation.