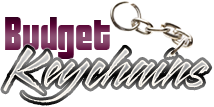 Custom Keychains Change Brand Preferences of your Prospects
Posted by admin
Posted on March 29, 2019
Custom keychains do not have a strong often intrusive marketing pitch like say a brochure or a billboard; yet freebies like keychains always remain in plain view of your customers thereby promoting your brand in a subtle yet effective way. Result- your recipients will have a light hearted dialogue with your message without being overwhelmed. Free merchandise is going pretty well with many brands and events; by offering something free for your prospects you can inspire them to be brand loyal.
Keychains are offered in a range of interesting shapes and brilliant color choices; choose a model that matches your corporate theme and you are all set to inspire your audience. You can make these custom handouts unique and interesting to make your message stay fresh on top of the minds of your audience.
Every time your recipients use keychains to carry their keys and stay organized, their engagement with your brand goes up manifold. It may even change your potential client's brand loyalty. Custom keychains are budget friendly and easy on your wallets. So, you don't have to dig through the pockets to get the desired branding effect.
Keychains can be used as tradeshow swag, store promotional items or even mailer gifts. The best part keychains are something everyone needs and want to use. So by leaving your brand on these logo items you can seize the opportunity of an effective branding. Low in cost yet high in utility, keychains will drive up the interest of your audience in your brand.
Here are some of the popular models that you will find interesting
Keychain flashlights
Anyone would love these custom keychain flashlights to carry their keys or as a useful LED flashlight; either way your brand will get a lot of attention. Having an easily accessible flashlight right at the finger tips will make them feel reassured during night. The best part- everyone will be curious to know more about the brand that handed out these highly useful gift items.
Carabiner keychains
6cm Carabiner with Split Keyring and Nylon Strap Keychains is a great model to consider. It can be used to carry keys hands-free as these can be easily attached to backpacks or belt loops. Your brand name will appear laser engraved on the metal split key ring to make it a great branded object.
Bottle opener keychains
A handy dual use keychain that you can carry wherever you go! No matter whether your recipients use it as a bottle opener or a keychain, these innovative products will draw a lot of curious eye balls. The best part – your clients will love the choice of colors.
Which of these popular models are you planning to use as your promotional items? Do share your thoughts and experiences at our facebook page to join an interesting discussion.