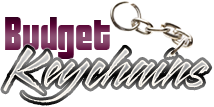 Custom Keychains- The Simple Handouts That Hold The Key To Your Brand's Success
Posted by admin
Posted on May 29, 2019
Keychains may not ring the bell of an exotic or a high value custom gift for most marketers. However, these inexpensive handouts hold enormous branding potential that can be exploited in various promotional campaigns. These flexible and practical items that recipients will always have within reach are something that everyone needs to keep their keys safe. Keychains even make collectibles or an emphatic way to highlight the social causes that anyone supports or the hobbies they like.
Custom keychains make a great conversation topic as well. A smartly customized keychain will have everyone's eyes over them. People will naturally be inclined to know the source of these exceptional keychains. If you're looking for a cost effective handout custom keychains will make a great choice to consider. It will offer you a lot of value for your promotional dollar and a lasting billboard that nobody will overlook.  A bottle opener keychain or a flashlight keychain will give you more logo exposure for less than a dollar each. Imprinted keychains are indeed effective and inexpensive ways of touching base with customers.
Flexible and gender neutral, keychains will fit any industry and theme. Aside from being cost-effective, custom keychains are quite flexible and fit any industry and theme. Do you want to reach out to golf players? Golf Tee Keychains will make a great way to engage them in a fun dialogue with your brand. Promoting a baseball event? Check out these Homerun Keychains made of squeezable, polyurethane foam, that can also be used as mini stress relievers.
You can enhance your logo exposure by giving out multifunction keychains. Heart shaped metal keychains will look striking with any laser engraved logo while house shaped keychains will make a great way to hand-over the keys of the new home to the clients.
Light weight and handy, keychains are more likely to get carried by your recipients wherever they go. You can even use them for your direct-mail efforts; your recipients are more likely to use them than most other custom products considering the high functionality that these logo items enjoy.
Promotional keychains can be effectively used in large promotional events and mega campaigns. These make small token gifts for your attendees. Get your brand and message imprinted on these keychains to create a better response from the audience and show them how much they are appreciated.  These simple yet thoughtful gestures often go a long way in enhancing the brand building efforts of your brand.
Though it might be an overwhelming task to choose the best keychain from a wide variety, you can narrow down the choices by following the fashion trends and choose something that pleases the contemporary users.
For more tips and trends, follow our blog post or explore our collections and stay sure.
Share and Enjoy