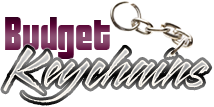 What Makes Imprinted Keychains A Great Marketing Merchandise
Posted by admin
Posted on May 30, 2019
Marketing strategies are what makes brands thrive. No business can survive for long without marketing themselves. Brands employ different strategies to stand out in the crowd and shatter the marketing clutter. Corporate merchandise has been one of the most tried and tested methods in business promotions. However, a lot of care goes into choosing corporate gifts for promoting their brand because only a good handout will capture the audience's mind and enhance your brand identity
Functional promotional items like logo keychains will leave a lasting brand impression in the minds of your target audience. Still on fence? Here are some features that corporate merchandise should ideally possess to stand up as an excellent marketing device. Interestingly, you will see that keychains possess all these and more.
Style: The first trait of popular promotional gifts is style and beauty. This is what makes your audience keen to hold on to these products and go a long way in popularizing your brand within the target audience. Only if the prospects are fancied by the look of the promotional item, they will take a closer look at it and use it more often. Every time they do so, the branding elements come in their notice, thereby, generating brand awareness.
Functionality: Corporate merchandise should be handy and easy to use. If they cannot be used in the daily chores of the recipients, your gifts may end up as just a show piece. Their purpose of exposing your brand to more number of people gets defeated here. The more often and frequent they are used, the more will be your brand popularity. This is what makes keychains a blue chip option to keep your brand a top-of-the-mind variety.
The best part is that keychains are available in a range of combo models that bring together the functionality of many other everyday items into keychains. For instance, flashlight keychains will double up as a source of light rather than a plain keychains; a bottle opener keychain comes out in the open not just when your recipients need their keys but also to pop open the tops of their beverage bottles. Double the functionality double will be the brand exposure.
Cost factor: Budget is often the main factor that decides the extent and scope of campaigns. Marketers on a modest budget can still plan a highly effective promotional campaign with keychains as these are budget friendly and popular. Everyone will appreciate the idea of getting these everyday items for free while the marketers can easily reach out to their audience even in mass events like tradeshows.
Imprint space: The gift that you choose should have a high visibility imprint space for your brand and message. Anything imprinted on keychains will get a lot of attention. Make sure to position your branding elements to ensure the undivided attention of your customers.
Have a better idea? Do share it with us at facebook to get featured.