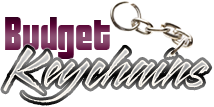 Imprinted Keychains- Small Gifts With Mighty Branding Potential
Posted by admin
Posted on July 5, 2019
Can you believe that these modest and nondescript items of keychains can be the ultimate crowd pullers in the swathe of promotional items? You could be in for a surprise to note that even luxury fashion brands like Prada had come up with a monkey keychain called Otto-Toto that was retailing for $550. It shows the incredible popularity that keychains enjoy even in today's mechanical world.
Why keychains
Why keychains? If that is the query that pops up in your mind, now, here are a few factors that you will find interesting
Budget-friendly: If cost is the watchword of your promotions, imprinted keychains will make a great choice.  The low-cost factor will make these a superb choice for mass promotions like mailer campaigns or tradeshows.
High utility: Keychains are something everyone needs to carry their keys, a style token or even as an expression of their social status or hobbies. By getting your brand imprinted on these items, you can get across to every genre of audience irrespective of the age of gender differences. Keychains fit every promotional theme with ease and will never look odd in any campaign.
Easy to use: Keychains are offered in ready to use form. Your recipients will instantly tag their keys on to these keychains and your brand will be at work right away. Simplicity is the trump card of these logo items that make these logo items warmly received and well retained.
Handy: Lightweight and compact, keychains are easy to distribute in any type of event or branding campaign. You can even use it as mailer gifts or for door-to-door promotions.    
Always remain in plain view: Keychains remain in the eye span of everyone and never remains stored in desks or closets. This is another big plus. Your brand and message imprinted on these will get noticed by not just your prospects but a wider audience around.
Now for some popular models that will get you started on a sure footing
Flashlight keychains: Your recipients will have a reliable source of light every time they carry their keys. Why offer a plain keychain when you can have these Flashlight keychains that bring together the features of flashlights and keychains?
Bottle opener keychains: Your prospects can pop the top and carry the keys all at once with these meaningful gifts. Your brand imprinted on these Bottle opener keychains will get a lot of exposure.
Tape measure keychains: Cater to the burgeoning community of DIY clan by handing out these high utility gifts of Tape measure keychains. Your brand on these will get a wide-angle display at one-time investment.
Which of these keychains are you planning to make your summer promotional item?
Share and Enjoy