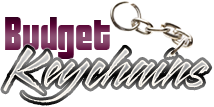 Keychains Make Super popular Handouts On A Small Investment
Posted by admin
Posted on October 11, 2021
A successful organization, no matter how big or small, understands the importance of using high utility promotional products like custom keychains in its business promotions.
Apart from being a small token gift to your audience, custom keychains are something that your prospects will find useful in their everyday lives. Grab the attention of potential clients and keep them informed about your brand identity and core values with these useful giveaways.
Popular giveaways are by far the most effective in reinforcing your brand awareness in their minds. Keychains are a cost effective way of promoting a company's brand identity to the target audience without putting in too much effort. Choose keychains from a wide range of novelty shapes and  popular colors to create curiosity in their minds and encourage them to do business with your organization.
Having a loyal customer base makes the corner stone of any thriving business organization. It is  surprising that even small handouts like keychains will go a long way to  make them feel appreciated and increase customer loyalty and satisfaction. Investing in  custom keychains work both ways as it brings great returns in terms of both brand awareness and revenue generation. Unlike  expensive conventional advertisements like billboards or print ads, logo keychains  travel easily with your recipients, thereby taking your message into a wider audience. Portability is the main advantage of small and sleek handouts like keychains.
The best part is that marketers can cleverly incorporate keychains into their promotional plan in countless ways. Here are some tips that will get you inspired
As mailer items
Slip in a keychain branded with your loo and message along with your business letters, newsletters, holiday greetings and more. Lumpy mails have a big surprise factor to its credit that will make your audience truly excited.  Plus, a small gift can go a long way to increase the value of your mailers and make it highly likely to be read!
Store promotional items
Keychains facilitate repeated brand exposure during a short time, which makes it one of the most coveted promotional products. The impressive long shelf life is another feature that will work in your favor. It will increase the chances of the potential customers to come back to do more business with the company as these logo items will serve as a consistent  reminder of the strong market presence and brand identity.
Fund raising items
An ideal fund raising item should be cost effective and useful alike to get people purchase it and be part of the social cause. Keychains tick all the boxes of a perfect promotional handout. Choose from various models and price rates to offer something interesting to the audience and that rightly complements your social cause. For instance, you can use custom baseball keychains to raise funds for the local leagues or get sports apparels for the junior baseball tea, in your neighborhood.
Did you find this post on custom Keychains interesting? Be the first to share and spread the word.