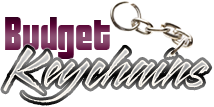 Point Your Way To Success With These Pointer Keychains
Posted by admin
Posted on May 5, 2016
Keychains today are not only made to organize keys but it also serves another purpose. One of the best keychains we offer on our website is our personalized Pointer Keychains. There are so many events in which you can use these personalized pointer keychains, some of which are listed below.
It can be given as a party favor.
Be it a wedding favor, a birthday favor or a graduation favor. These promotional pointer keychains are perfect for these occasions.
It can be handed out as a loyalty gift to clients.
Since there are so many products on the market today, you can opt for these promotional keychains. Having your business name or a "thank you" phrase imprinted on it will surely put a smile on your customer's face. Do you know that 27% generally keep the product if they like the message it carries. The more your loyal customers, the more will be your brand popularity.
We have 6 products under our personalized pointer keychains. These are the following:
-> Customized Pull-A-Part Keychains – Silver
This can be availed for as low as $1.07
It has a strong swivel key ring
Its imprint area is 1"x7/16" (WxH)
For the imprint options, we have our standard off-set printing colors
-> Custom Rectangular Laser Pointer Keychains
It can be availed for as low as $1.36
It comes in a sleek design with powerful lithium batteries
It offers an imprint area of 2"x5/8"
-> Customized Dual Function Laser Pointer And Led Flashlight
A laser pointer and LED flashlight in one keychain
Its imprint area is 1 ½"x9/32"
It has a solid metal construction
-> Custom Dual Function Laser Pointer With LED Flashlight Keychains And Carabiner
It has a solid metal construction
Its imprint area is 1 ½"x9/32"
-> Custom Laser Pointer And Dual Super Bright LED Flashlights With Carabiner Keychains
It is powered by an environment friendly three long life LR44 lithium batteries.
It is made of solid metal construction with silver trim
It can be imprinted in either laser engraving or printed
Its imprint area is 1 ½"x5/16"
-> Personalized Ultra Thin 2 In 1 Laser Pointer Flashlight Keychains
Its imprinted method can be a full color process or printed
It has a CR2016 lithium batteries
Ultra-thin
Promotional products can boost up recall especially when it is used daily such as these personalized  keychains. Our personalized pointer keychains are an excellent tool to help increase your sales by making people become more aware of your brand.