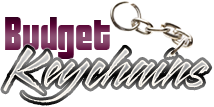 Think Out Of The Box With These custom Novelty Keychains
Posted by admin
Posted on May 5, 2016
Are you tired of the same promotional item? Have you ever tried receiving or giving something that is unique or fun? Well, this is the moment that you should try giving away promotional items that are not just amusing to look at but delivers results.
Keychains are already a known and common promotional item but adding an amusing or fun shape to the keychain will make it new or unusual. We do not want your marketing campaign or celebrations to be common and boring, that is why we have come up with our imprinted Novelty Keychains category. Under this category, you will be able to choose different designs and styles of imprinted keychains.
You can always think out of the box with your promotional campaign. If you are looking for cost effective items then these imprinted keychains are what you are looking for. Also, you will get your money's worth with these imprinted keychains simply because these will be kept for quite a long time due to its usefulness. According to a study that was conducted, only 20% will throw away a promotional item if it has no use. So imagine the 80% that will keep the item for a longer period of time. Every time it is used, the recipient will be reminded of you and onlookers also will notice your business logo or name. When your business name is seen on a regular basis, you will be building a connection with your consumers and eventually you will become relevant to them.
Share and Enjoy