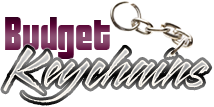 Know Why These One Color Keychains Are Beneficial For Your Business
Posted by admin
Posted on May 5, 2016
Probably you are a new business owner or an existing business owner who plans to get people's attention yet does not want to spend a lot for your promotional campaign. Well, here is good news for you. We, at budgetkeychains.com, offer very affordable and highly durable products that will be perfect for your promotional campaign. Our personalized One Color Keychains are inexpensive and will surely help boost your sales.
It has been proven on a study that a useful promotional tool can boost the sales of a business and creates a lasting impression. We have listed a few facts below to prove why you should invest in these personalized keychains.
According to a study, 92% of the recipients keep a promotional tool due to its usefulness. Most of the time people will keep something that it can be of good use and these personalized keychains are very handy in organizing your keys therefore these are useful things.
It has also been proven that when you invest in these items, it will help prospects or non-clients to become your customer. It has been cited on a research that 9% of your recipients who are non-clients automatically becomes a customer while or after receiving the promotional item.
Another study shows that 89% of consumers that were surveyed could recall the name of the advertiser on a promotional product and that is exactly what you can do on our personalized keychains. You can add details such as either your brand name or logo to be imprinted on our personalized keychains to make sure that your recipients will remember you.
Not yet convinced with the facts given to you? Well, we would like to share why our personalized keychains are the perfect promotional tool for your next campaign. The benefits are listed below.
It can be customized. All the keychains offered on our website are customizable which gives you the opportunity to imprint whatever information you want to attract clients and make them remember you.
Keychains are already part to an individual's daily life to help him or her organize little things such as keys. When an item is used daily it will give your brand visibility.
Keychains are cost-effective and durable. You need not worry if the budget on your promotional campaign will go overboard because all of the items that we offer on our website are very affordable plus you can get discounts and freebies.
So make the right move today by investing in our personalized budget keychains. These fun and cool items will surely increase the likelihood of bringing more clients to you. These items surely serve a clear purpose and that is to help boost your sales.
Share and Enjoy