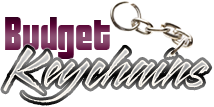 Why Promotional Keychains are The Key to Any Successful Marketing Strategy
Posted by admin
Posted on May 11, 2023
Promotional keychains make cost effective and popular marketing tools for businesses of all sizes. It will promote your brand image and strengthen client relationships. Versatile and popular, custom keychains will also fit any industry niche and match the needs of every genre of audience.
The golden rule of choosing popular promotional giveaways is that it should be practical for daily use. So, high utility handouts like keychains will make an obvious choice. It will easily leave a lasting impression in the minds of the audience and will bring a smile to your prospect's faces.
Custom keychains can be used to impress new customers, retain existing ones,  enhance your brand image or something more.
How keychains help in advertising
Branded  keychains  are a powerful way to advertise your business. Every time your client uses your gift, your logo will be on full display to people around, which in turn can lead to increased sales and referrals.
Keychains are ideal for budget friendly targeted promotion
If you are planning a mass event, custom keychains will make a great choice. This means you  won't need to spend a large amount of money even when you engage with a mass audience.
Easy to distribute
Keychains are light weight and compact, which means it can be targeted precisely to those people who are seriously interested in your product. Thus you can plan a more effective marketing campaign and get a higher return on investment.
Tangible Advertising
 Handouts like keychains ensure multisensory interaction with your prospects and create a stronger branding experience in them. The stronger the experience the more memorable your brand becomes. Unlike traditional ads like TV or radio ads that will disappear in a flash, promotional giveaways will make tangible brand reminders for your audience that they will never forget.
Build Brand Awareness
Everyday promotional products like keychains will display your company's logo and tagline to  not just the recipients buy anyone in the vicinity. Every time these keychains are used, it will leave a subliminal impact on the mind of the audience and your logo will become embedded in their mind. This in turn will create an emotional connection with them. Thus your recipients are able to remember and recognize your business easily. Next time your clients need products they'll be more likely to give you a call.
Spark Conversations at Trade Shows
Trade show floors also bring together competitors under the same roof, all of whom vying for the undivided attention of the attendees. There can't be a better way to get your prospect's attention than custom giveaways.  An interesting and handy gift like keytags will  immediately catch their eye, and it won't be long before they are engaged in conversation with you. Thus , there is no better way to connect with your prospects than by sending them these thoughtful gifts. Explore our complete line of custom keychains to choose an appropriate model that will match your needs