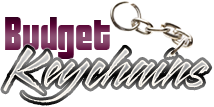 The Facts Behind The Potential Of Custom Keychains
Posted by admin
Posted on January 12, 2019
Everyone loves free gifts and if the item is functional and relevant as keychains, there's no reason for the recipients not to use them. In fact, 81% of people keep promotional items for more than a year, according to the PPAI.  Custom keychains make a potent addition to your marketing strategy. Still on fence?
Here are some interesting ways how keychains can make your brand popular.
Keychains make talking topics
An attractive and smartly customized keychain will make a great conversation starter in social circles and events like tradeshows as well.  Add your brand, contact details and message on these strategic products that will get your recipients recall your brand without being intrusive. Just imagine the number of times people see your brand on promotional items like keychains!
Collectibles
Unusually shaped keychains make great collectibles as well for your recipients. Custom keychains not just remind the recipient of your business, but grab the attention of other people as well. Keychains will display your brand to others at the super markets, golf clubs, on the train and more and your brand will reach a wider secondary audience in no time.
Keychains are well retained
Just consider the length of time keychains may be kept. A keychain can be used for many years and brought to the work place, gym, picnics and infact wherever your recipients go.  Daily use items like keychains will continue to bring brand awareness long after you pay for it as against news paper/ TV ad that will remain in the eye span of the audience for just a few seconds. If you are looking for a sustainable promotional strategy that will ensure assured ROI, not many custom gifts can match  the charm of imprinted keychains.
Strengthen Customer Loyalty
Promotional items like keychains that the users will find useful will enhance customer loyalty as they will appreciate businesses that take care to choose useful gifts like keychains that they can use in their daily lives. It's no wonder why 82% of customers have a more favorable impression of a brand when given a promotional item. If you are looking for a tradeshow swag that will tempt the flowing crowd to stick a bit longer in your booth and take interest in your products, keychains will make a great handout. Compact and light weight, these are easy to store and distribute as well. You can even plan some fun contests in your tradeshow booth and handout keychains to the winners or anyone who shares their contact details with you. It will make a smart way to engage your audience with your brand in a light hearted way.
How do you plan to use custom keychains in your promotions? Tell us your tips on our facebook page and get connected with other keychain lovers.
Share and Enjoy