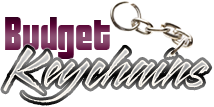 Custom Keychains- Handouts that Keep Your Brand Front And Center
Posted by admin
Posted on January 14, 2019
Let's be frank about it! Promotional products will make a great addition to any marketing mix. If you are looking for a budget friendly custom gift that will keep your brand front and center and builds brand loyalty among your customers, look no further than promotional keychains. Useful for everyone, compact enough to carry and store easily or employ in mailer campaigns, keychains are likely to  be around for a very long time in the promotional circuits. It is amazing that a modest item like keychains still enjoy a cult status in this robotic world of biometrics and keyless security.
Keychains make everyone feel safe and reassured as it keeps their important keys safe and well organized. Nobody can have enough of these logo items. Put your brand and message on these budget friendly handouts to turn them into powerful custom gifts to promote all types of brands and businesses. Promotional keychains make gifts that make sense to every genre of audience irrespective of age or gender differences because everyone loves to have keychains in their possession – not just to carry keys safely but also as style accessories or collectibles.
Custom keychains will never look out of place
Custom keychains will never look out of place in any marketing campaign because these versatile gifts are useful for everyone. Be it as tradeshow gifts, mailer gifts, store promotional items or fund raising items, keychains can be effectively employed in countless methods and promotional events.
High ROI value
The biggest advantage of keychains is their high ROI value. Keychains will continue to make consistent brand impressions without any repeat investment or effort because keychains remain in full view of the recipients and anything imprinted on these will never get overlooked.
Limitless models
Offered in various material choices and models, keychains will make smart promotional items that match the theme of every business event.  From the classic leather and metal keychains to the casual plastic keychains and the sustainable ecofriendly models, there are a lot of options to consider. If you are looking for more value for money, consider combo models that will enhance the engagement of the audience with your brand by bringing them back to your brand more often. Bottle opener keychains can open the top of bottles and carry the keys alike, which means your recipients will be using these logo items more often than an ordinary keychain.
Have you been using custom keychains as your promotional items? Share your thoughts with us to share your feedback.