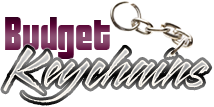 Promotional Keychains- Your Branding Can't Get Any Better
Posted by admin
Posted on June 22, 2018
Choosing the most effective promotional items without breaking the budget is the toughest part in planning the promotional strategy for marketers. Ideally the custom gift that they choose should be highly useful and value added, which means that your recipients will use these logo items for a very long time. More the use more will be the brand impressions. This is what makes custom keychains great promotional items.
Why keychains?
Keychains are daily use items that most people cannot overlook! The best part is that keychains will let you imprint your message in a few power packed words, which will give more impact than a long text that may not grab the attention of the audience. Promotional keychains will leave an emotional connection with the audience that will impress and move people.
If you thought that in a brand inflated gift market, larger font and eye catching logos have a greater chance to catch the attention of the audience, you could be wrong. The best way to get across your message is not to adopt a big and bold approach but a subtle yet effective way that will ensure the desired publicity. Here custom keychain gifts have real value.
Keychains are available in a range of price points that will give a wider elbow room for marketers to choose a model that matches their budget. It is sensible not to opt for very low products as it may project a low image for your brand that could make the customers have a skeptical attitude to the enterprise. Very cheap quality items might not last long and may not be useful for the recipients, so make sure to choose good quality gifts that your customers will surely appreciate.
Imprint Tips
Typically your promotional message should not exceed one third of the size of the gift to ensure a perfect scale of proportion. Metal keychains  and leather keychains offer a lot of imprint options like laser or emboss or deboss while plastic keychain models can be imprinted with full color imprints to grab easy attention. Make sure to ensure the right color mix and smooth fusion to make your logo stand out. The imprint location should be strategic, which can attract the attention of consumers to ensure maximum communication.
Need more customization tips and ideas? Call our friendly team of product experts and make a well informed decision. Also do share your thoughts and experiences of using custom keychains with us at the comments section to join the fun of conversation.