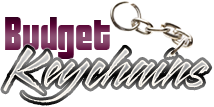 Promotional Key Chains Make Formidable Branding Tools That Never Fail
Posted by admin
Posted on October 5, 2018
An average person sees about 5,000 advertisements a day, which in itself is a proof to show the promotional capacity of advertisements. Businesses know how many brand names that people come across every day, which makes it necessary for them to come up with a unique and interesting promotional strategy that will never fail.
Branded keychains have a high perceived value to the recipients as these are highly functional and beautiful. A trendy branded keychain will serve as a daily reminder of who you are, and what you're offering! Keychains make a great investment for any business, because these are versatile, gender neutral and above all highly useful for every genre of audience. Giving away key chains to tradeshow attendees will keep your product and brand on top of the minds of investors and customers. Branded keychains will build a sense of solidarity and teamwork among your attendees and will offer an engaging common topic of discussion too.
Exposure to an abundance of advertisements actually confuses people and desensitizes people. Marketers may need to think something different to cut through the advertisement clutter to ensure a higher brand visibility. Business owners have a fair idea of how many companies are there in the fray, advertising their goods and services these days to impress their customers and make new leads. Freebies play an important role in getting your name and contact information into people's hands because these are well retained and continues to work for your brand better than a business card.
A branded custom key chain will get your message across to your clients effectively irrespective of who you are or what services you provide. Everyone needs keychains and the incredible functionality of these logo items will make sure that people who receive one will be certain to keep your brand in mind—or at least, in their pocket! Offered in a range of interesting models and combo styles, keychains can be selected to match your product line. For instance, a bottle opener keychains will make a great choice to promote a brewery while a carabiner keychains will make the name of your adventure club popular among the outdoorsy clients.
Once your logo becomes recognizable, it becomes your brand face that people are able to relate to easily. These promotional products will thus drive up the fan-base of your brand and in the days ahead your product fans will wear these logos on keychains with pride. Have you used custom keychains as your promotional items? Share your thoughts with us at our facebook page.
Share and Enjoy