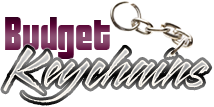 Promote Your Brand in Less Time With Logo Keychains
Posted by admin
Posted on January 20, 2023
Keychains stay around for a longer time and are known to have a very long product life. If you invest in high-quality custom keychains, you can expect them to last as long as you want. In a business world where brands are competing with each other for customers' attention, custom keychains will surely give your brand the edge it needs to stand out in the crowd.
It is no joke that keychains can make incredible things happen for you when they reach your target audience's hands.  What makes keychains an incredible marketing tool is that it will get your logo seen by more people.  Ideal for all types of promotional events like trade show or exhibition, keychains enjoy unbeatable brand popularity that is hard to miss.
Perfect for Everyone!
A major benefit of promotional keychains is that they are suitable for anyone, regardless of the gender or life style of your recipients. So, you can effectively reach out to a wider audience group. Most importantly, marketers need to bother to find the accurate size or model when they choose keychains. No matter which model you choose, promotional keychains will always impress people for its utility.
Of course, the biggest selling point is that everyone needs keytags! This makes it a great handout for employees, clients and customers. Easy to distribute in person or through mailers, custom  keychains make perfect giveaways for industry events, trade shows, conferences, exhibitions and more.
Fashionable and Functional
No one likes getting a cheap promotional product. So make sure to choose superior quality keychains that are available in a range of different colors and styles.  Apart from keeping the keys well organized, keychains double up as trendy accessories as well. In addition, you can choose combo models like bottle opener keychains that are much more than an ordinary keytag. It is a clever way to engage your audience with your brand multiple times. More the utility, more will be the brand exposure.
Durable and Long-lasting
Promotional keytags are also made from high-quality materials to ensure they are durable and long-lasting. Thus your brand and message imprinted on keychains will remain front and center of the audience for a long time. Choose from a  range of color options to choose the best so that it will complement your business, brand or logo! 
Budget friendly
If you thought the most effective promotional merchandise almost always fall in the high price bracket, you are in for a sure surprise. Custom  keychains will cost you only a few cents and hence, will make a perfect choice for mass events like mailer campaigns. Thus keychains will make a perfect handout even for small businesses and low budget promotions.
Repetition Builds Brands
Keychains make consistent impressions at one time cost. Your logo and message on keytags are easy to spot, and your audience can see them many times a day. Thus, you get continuous brand exposure while familiarizing your audience with your brand. Win-win
Interested to find out more about custom keychains? Browse our collection or reach out to our team.