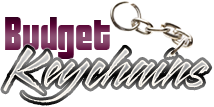 Personalized Keychains- Make Your Message Part Of your Customer's Everyday Life
Posted by admin
Posted on August 21, 2019
 What's the thing you use every day, and always have on hand? Your keys and keychains! So by handing out a custom keychain you can leave your brand impression in the everyday life of your prospects. Non intrusive yet always in plain view, keychains will shout out your message 24 x7! Just imagine the exposure your brand will get every time someone unlocks their front door or starts their car. Plus, by adding a bit of functionality to the keychains like in the case of combo models like bottle opener keychains or flashlight keychains you can integrate your brand into their lives while helping them make life easy!
Custom keychains are available in a wide range of models and price tags. Choose a model that caters to your target audience needs. Let's be frank about it! Keychains are some of the few things that everybody carries with them at all times. By making these practical accessories, your branding tools, you can have your logo right and center of your audience always. Hand these out at your next event or gift these to employees to ensure maximum brand recognition.

Kick start your marketing efforts with an appropriate and useful keychain accessory that will appease your clients and employees alike. Be it a custom bottle opener keychain that keeps your recipients party ready, a tape measure keychains that will let everyone be doubly sure about their measurements or  a laser pointer keychains that will get a lot of attention during board room meetings and presentations and more- there is literally no end to the selection of  keychains.
Being light weight and compact, anyone will find it easy to carry around , thereby putting your brand on a portability curve. If you have a mass campaign on cards, keychains will make a great handout as these are easy to store and distribute. The best part, these won't incur a high postage charge.
Laser engrave your brand on metal keychains , de-boss your artwork on leather keychains or screen imprint your message on plastic or acrylic keychains – Choose the best customization options to boost your brand visibility and strike a perfect  rapport with your audience .
Do you have any keychains that you just cannot live without? Please let us know on our facebook page.