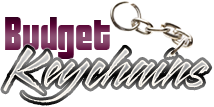 Give Your Brand Constant Exposure with Custom Keychains
Posted by admin
Posted on August 22, 2019
What if there were an easy, budget friendly way to get your brand in front of your prospects many times every day? What if you could guarantee that  your customers carry your logo wherever they went? Well, we are not talking about a marketing fantasy but a hard reality of custom keychains.
Plentiful Promotional Opportunities
Keychains make clever marketing pieces that can literally sneak in your brand into the spaces of your prospects. An instant winner with various businesses like car washes, pet care centers, farmer's markets dealers, auto parts stores and more, these logo items will bring your brand instinctively to the minds of your prospects. Keychains make a premium  real estate for you to place your contact information, which will always be close at hand.
Keychains will make any event memorable and talked about for a long time. For the same reason, keychains make great handouts during tradeshows, milestone celebrations and events. The big bonus- your happy customers will gladly share their experiences of dealing with your business – and show off these unique and customized keychain to everyone around.
Ideal for Every Brand
Keychains are available in a wide range shapes and sizes, which means that there is something special for everyone. For instance a bike shaped keychain for a biking club or a horse head shaped keychains for a polo club or a golf club shaped keychain for promoting golf leagues- keychains can fit into any of your marketing plan with ease.
Fun-loving surf shop? Mini Skateboard Keychains will make a great choice. Offered in bright colors, these keychains can be imprinted with whimsical artwork that will let your brand identity shine through. Be it your logo, images or taglines, anything will look good on these keychains.
Tooth Shaped Dental Floss Keychains will make a great handout during National Children's Dental Health Month in February
Car Keychains  make a great choice for auto dealers and car insurance companies to get their message out. It will make a constant reminder of your brand and services and will inspire your customers to turn up for their appointments promptly.
Looking for an elegant gift for your high value clients? Metal keychains will make a great way to show your  sophistication and taste for the finer things in life. Booster clubs trying to get the attention they need during a fund raising campaign? Soccer cap shaped keychains will pique interest among your audience and make a great collectible for  the soccer lovers.
Car service centers will find these Printed Flashing Car Keychains a great way to get their message out and to be as a gentle reminder to schedule an appointment.