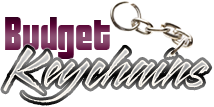 Personalized Keychains- Branding Made Easy!
Posted by admin
Posted on July 22, 2020
Keychains always remain in plain sight of everyone and even if they lose sight of their keychains for even a moment, mayhem sets in and  hell breaks loose. Keys and keychains play a crucial role in everyone's life even today in this robotic age. It is an open secret that people prefer the old school method of lock and key to keep their valuable items safe rather than keyless security options.
Keychains can make people feel safe and reassured. So, anything imprinted on these everyday items will never get missed. People use keychains countless times in a single day to open or close the doors, vaults, filing cabinets and more. Some people even collect keychains as hobby while  others use it as accessories or even to express their social commitment or support a cause.
Custom keychains are not just about the uniqueness but fashion trends as well. Everyone will love to acquire new products that others may not have.  Custom keychains make it possible for you to customize every part of the design without any  compromise. You can choose the material, shape and the color of the keychains to make it compliment your brand.
Here are some models that you will find interesting
Bottle opener keychains
Whether your prospects use it as keychains or a smart way to pop the top of bottles, your brand on bottle opener keychains will get a perfect display. Choose from a wide range of themes like sports themed, animals, novelty shapes, automobile themes and so on. Get your message and logo imprinted  on these to make it a rolling billboard for your logo.
Tape measure keychains
These  smart logo items ensure the dual convenience of a keychain and a tape measure  for your recipients while your brand imprinted on it will get multiple impressions without any repeat investment or effort. Tape measure keychains make great handouts for architects, housing companies , contractors and more.  The more useful your keychains are the more popular your message gets. So, it is a clever way to sneak in your message more often to  the everyday activities of your recipients.
Compass keychains
Outdoor season is at its zenith and most people are  busy planning their trekking and camping holidays. If you are looking for a budget friendly handout to  reach out to the outdoorsy crowd, nothing can beat the charm of compass keychains. Every time, someone wants to know the direction and get  to their destination safely, these logo items will come handy. Your brand and message imprinted on these will get a  lot of attention and appreciation
We have a lot more; browse our collection and choose a model that matches your theme.