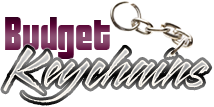 Nobody Remembers To Buy Keychains For Themselves- That Is What Makes Custom Keychains Successful Promotional Items
Posted by admin
Posted on May 10, 2016
Let's be frank about it! Custom keychains make one of the most popular promotional gifts ever because these are daily use items that everyone needs. Most people misplace their keys and house keys and car keys are found to be the most frequently misplaced items. On an average, people spend 10 minutes or more to retrieve lost items as per a recent study. So, by handing out these practical items, you can hand out something extremely useful to your recipients and help them save their precious productive time.
The fact that a lost car or home key can prove a security threat for the owners highlights the importance of these ubiquitous and largely overlooked custom items. Businesses can help their recipients to organize their keys safely by distributing branded key rings during promotional giveaways. These functional items will enable your customers to keep all their keys together so the chances of misplacement are reduced.
Here are some of the popular keychain models that can be considered.
Metal keychains: Elegant and appealing, these masterpieces will make great handouts for promoting travel companies, hotels, financial institutions and more. Engrave your logo and message on these and see how these promotional items will put your brand on parade many times in a single day.
Environment friendly keychains: Spread your go green message along with your brand by handing out these keychains. At a time when more people stand for brands with social commitment these keychains will make great options to get your message out.
Bottle opener keychains By adding features like bottle openers into keychains, you can ensure more value for these custom gifts. People often prefer all in one gift items that offer multiple advantages in a single device. These make great hand outs to promote bars, restaurants, catering services and more. Imprint your logo and message on these and see how these low cost gift items ensure regular brand impression and portability for your brand.
Novelty keychains: Ever fancied to have a keychain that necessarily doesn't look like one? Check out our impressive collection of novelty keychains that are available in a range of unusual shapes like musical instruments, animals, hearts and more.
The benefits of keychains that no marketer can overlook
Keychains can be used to promote all types of businesses and to reach out to every genre of customers.
Keychains are budget friendly
Long lasting and well retained, keychains enjoy a consistent use.
Available in various models, colors and materials, keychains offer something special for everyone
These make perfect handouts for mass promotions and mailer campaigns
Share and Enjoy