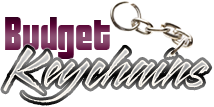 Imprinted Keychains -Promotional Gifts Favored By Most Businesses
Posted by admin
Posted on August 28, 2019
Looking for a marketing idea that will be a hit among the public and get your brand remembered easily? Think of everyday items like keychains that you may need but don't give much fuss about. It is used by everybody all the time. Juggling bunches of keys and keeping track of it is no easy task. Even if you lose one key, your day will be doomed!
That's where the keychain comes in. We may not give it a serious thought most of the time but on a closer look, it is surely an accessory that can help you a lot. Looking for a business gift? A budget friendly tradeshow swag or may be a memorable souvenir? Keychains will tick all these boxes with ease.   Personalized keychains imprinted with your emblem or logo make great handouts at social gatherings, business meetings and seminars. It is a Win-Win because while your prospects get something that they can use, your brand popularity gets spiked up.
As Employee gifts
Another way to use custom keychains is to use it as employee gifts. Be it as favors for your office party, contest prizes or corporate picnic gift bag items, keychains are always well received and retained.
As Tradeshow swag
Keychains will make a great tradeshow item as well. Budget friendly and highly useful, keychains are in hot demand everywhere. People need it to keep their keys of their home, office or car and by putting your brand on a keychain that they can actually use you will get a wide angle display.
Your first time customers will remember you because of this item. Every time they use their keys and see your keychain they will remember your brand. And if they ever need you, they know where to find you. The big bonus- Every time they carry these around, your message will be seen by friends or family and reach a fresh set of audience. Simple and cheap, these promotional items do most of the brand building work for you by spreading the word to more people.
As milestone souvenirs
Are you celebrating the anniversary of your business, planning an employee appreciation week or may be a milestone event in your foreign holiday packages? Either way, custom keychains will make a great choice. You can imprint your brand, artwork, tagline or anything that complements your achievement. The best part is that these souvenirs will remain with your clients for a long time even after the event.
 What do you think is the best way to use custom keychains in business promotions? Share your thoughts with us on our facebook page.