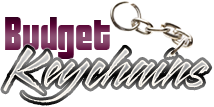 Imprinted Keychains- Practical Gifts That Are Hard To Resist
Posted by admin
Posted on March 22, 2021
 Let's be frank about it. Keychains are used by almost everyone who owns a set of keys, which in turn makes it one of the most popular promo products on the market. Every marketer wants their logo to be in front of their audience to remind them of the services that the company offers every time it's used.
Custom keychains are ideal promotional products due to their small size, low cost and bulk order benefits. The best part is that keychains are used by everyone; whether it is school children who need to keep track of the keys of their school lockers, to young adults trying to manage their multiple sets of keys or Janitors whose job demands frequent use of keys. Ideal for all types of promotional events and occasions, custom Keychains will match every promotional theme and budget as well
If your company is participating in crowded events like trade shows or business events personalized keyrings will make a perfect merchandise thanks to its low cost advantage. Choose from different materials such as metal, acrylic or leather. Combo models like flashlight Keychains or multi tool keychains that offer dual convenience for the prospects plus dual brand visibility at the cost of one. No matter whether you wish to use it as stand- alone gifts or part of your swag bag, custom Keychains will make great value added giveaways that everyone will find useful.
How to choose
The big plus of custom Keychains is that these are available in many models and styles in various materials and colors. For instance, metal keychains printed with laser engraving creates a high-quality print that even shows the smallest details. If you are looking for a  keychains model for the tech savvy audience power bank keychains or USB Keychains will make classic choices.
If you are looking for something classier, metal Keychains will make a better choice. The spinning circle Keychains will look great with a polished and shining exterior and the smooth flowing design. It will even make a fun toy to spend time or bust stress and boredom while at work or on the move.
Easy to distribute
Keychains are light weight and compact, which makes it easy to mail out or hand out in person. This is what makes keychains a perfect choice for a highly targeted promotion to ensure that the custom gifts  reach the hands of people that matter.
Explore our complete line of custom keychains that fit your needs. Should you need any tips, reach out to use and we will be happy to assist you.