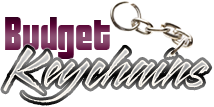 How to Select the Best Customizable keychains for Your Promotional Needs
Posted by admin
Posted on October 24, 2019
The season of holiday gifts, thanks giving and end of the year gifts is rolling in! Marketers may find keychains a great choice that meets their needs and budget. But with countless models on offer how do you select the right one?
Here are some tips that might help you make the best decision.
Budget
What is the budget that you have on hand for your upcoming promotion? If you have a small budget on hand, opt for plastic keychains or acrylic keytags. Those with a higher budget can opt for elegant models like metal keychains or leather keychains. By starting with a budget, you'll be able to hand pick the most appropriate models in the shortest time possible.
Customization tips
You can choose from single color or full color custom keychains according to your branding needs. Choose a keychain that matches your corporate color. Make it unique and engaging for your audience by imprinting not just your  logo but your artwork, taglines and quotes. Make sure that the keychain you choose has enough imprint space for your message.
Select the Right Style
The keychain that you opt should complement your promotional event. If you are a modern technology company that stands for modern and trendy styles, you can opt for tools and hardware keychains or novelty keychains.
Apart from considering your company image, also consider the class of your key audience and their preferences. For instance, if you have a youthful audience, think of cool models. If it is a formal business event, leather keychain will make a great choice. Do you have a mixed audience as in tradeshows? Then it will be a smart choice to pick up models in different styles and colors to cater to the different models.
Imprint Methods
Keychains offer various imprint options like screen print, debossing and embossing depending on the material. Make the best use of the imprint space and method to put your message on a wide display.
24 hour shipping
Are you in a hurry? 24 hour shipping will be a good option to consider. You get these custom keychains delivered at your door step within a day after placing the order.
Keychains are highly practical gifts that everyone will find useful. People need it to keep their keys safe and well organized.  The big plus- Keychains will always remain in plain view of your audience unlike other handouts that may remain in desks drawers and closets. You get 24 x 7 brand impressions at one time investment when you use custom keychains as promotional items.
Are you planning to use keychains as promotional items? Share your thoughts with us on our facebook page