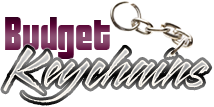 How to Make Sure your custom Key Chain Gets Noticed
Posted by admin
Posted on July 15, 2019
Keychains are functional, always remain in plain view and are retained for a long time. These attributes will make keychains a popular promotional item to consider. By choosing the right promotional key chain you can ensure greater impact.
Every business owner will find it a challenging task to beat the competition and stand out in business especially if they have limited advertising dollars. This is what makes popular and budget friendly promotional handouts like custom keychains the number one choice. These logo items make a tangible reminder of your customer's interaction with your business.
Promotional key chains are one of the top 5 promotional items in business giveaways. Compared to other forms of conventional advertisements, custom keychains offer the best bang for your business budget.
Keychains are available at prices starting only a few cents, which make them ideal for budget-friendly promotions and mass events like tradeshows. Small, compact and easy to distribute, these logo items make highly portable handouts for mailer campaigns or door to door promotions as well. These keychains do not require a large warehouse as storage space.
Practical and universally popular, keychains are widely endorsed by users of all age groups and demographics. Keychains may be ubiquitous and overly popular as custom gifts but this fact has not reduced its popularity even a wee bit. Keychains continue to get used more often even today. Choose combo models and innovative designs that ensure more value for your promotional dime.
Keychains that bring together various functional features like for instance a bottle opener or a flashlight are some of the many useful models that you will find interesting. Your prospects will not just find these keychains useful to carry keys but also to pop the top of their favorite beverage or to light up their way at night. More the use more will be the exposure for your brand. Combo keychains ensure double promotional opportunity for your brand to be remembered!
Unique Colors and shapes
Choose from a range of fabulous color choices in which keychains are offered. Unique shapes like sports-themed keychains will have a greater impact because everyone will take a closer look at these attractive keychains. Bright colors tend to stand out better and your brand imprinted on these will get spotted readily. Keychains in brilliant colors and attractive shapes are often rated high as collectibles and souvenirs as well. So, make sure to hand out something special rather than a plain model. It is a sure fire way to get your brand spotted.
Share and Enjoy