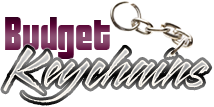 How Keychains Make Well Rounded Promotional Items
Posted by admin
Posted on July 16, 2019
A custom key chain is a gift that your recipients take everywhere and use every day. While most conventional advertisements like billboards are static with a very limited shelf life, custom gifts like keychains enjoy high portability and visibility.
Here are some of the multiple roles where imprinted keychains fit into in any campaign.
As Branding items
Make your brand popular and easily recognizable among your audience with branded keychains. These everyday items will literally get your logo right into the hands of your key audience to earn their undivided attention. Let's be frank about it! Not many custom gifts in this price rate enjoy visibility as high as keychains. Remember, your brand imprinted on keychains will always remain in plain view of your audience and that counts!
Offered in a wide range of custom shapes, imprinted keychains can complement any branding theme with ease. Keychains will make a budget-friendly handout that will set your brand apart from its competitors.
To Enhance Awareness
Keychains can drive up your brand awareness in a subtle way without the nagging marketing pitch. Consistent exposure will enable your recipients to recall and recognize your brand instinctively. Reports show that 9 in 10 consumers recall the branding on promotional products. Keychains will make a true winner in this regard. With that being said, you can plan a brand-building campaign with these crowd-pleasing promotional products.
In Communication
Promotional products serve as communication tools with your buyers. Be it announce new products and services, discount deals or in fact anything that you wish to convey to your audience. Popular handouts like keychains make your brand seen everywhere and will spread your values and message in your target market thereby creating a loyal customer base.
For Brand Exposure
Everyday promotional merchandise helps your small business gain customers through consistent exposure. Most people will use highly functional gifts like keychains many times a day. Imagine the exposure your brand will get on keychains during its shelf life.
In Lead Generation
Keychains gather a lot of attention from people around and hence make fresh leads all the way. These budget-friendly custom gifts make a lead generation tool in mass events like tradeshows or mailer campaigns. A well-customized keychain will evoke quick interest among a fresh audience and make a great way to make your first handshake truly special. Keychains make trusted handouts in a tiered gifting approach during business events. You can start with these budget-friendly handouts and work your way to a more expensive promotional item for someone that is genuinely interested in your business. It is a tried and tested way to convert a prospect into a client by sticking to your budget.
How has been your experience of using keychains in business promotions? Share your thoughts.
Share and Enjoy