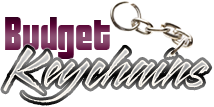 How Promotional Keychains can Enhance your Brand Popularity on a Budget
Posted by admin
Posted on January 29, 2021
Let's be frank about it! Most consumers prefer doing business with brands they know. So, what could be the best way to gain the trust of customers and make your brand more popular among them? Including popular handouts like imprinted keychains is a proven way to make your brand popular among the target audience.
 Trying to find a gift that will fit in your modest budget? Keychains will be simply great. Need a light weight gift that won't add up to your postage charges as mailer gifts for your mass mailer campaign?   Imprinted keychains will make the right choice! Looking for a perfect gift that will appease everyone in  your diverse audience group? You have a safe gift choice in keychains as  these gifts are popular among everyone irrespective of age or demographics.
Besides brand exposure, custom keychains also make a strong factor in making new leads. ASI study shows that while using popular promo gifts, the average likelihood of new business is 36%!  So, get started by ordering imprinted keychains  any shape, size, or quantity to help promote your business, event, or even your favorite sports team. Put on your creative caps to come up with your own set of keychains that are designed to be eye candy of your prospects and everyone around them!
 Additionally, keychains capitalizes on several popular fashion trends, which in turn increases your exposure to the public and help you to strongly connect with your audience.  From elegant metal keychains to the timeless classic gifts of leather keychains and everything in between, you have something special in custom keychains.
Plastic keychains are cheap as chips and stand out for its quirky shapes and brilliant colors that will impress the younger crowd. The light weight design will make it a great option as mailer gifts or trade show swag.
Combo keychains that offer added features are fabulous choices to get your audience think and talk about your brand more often. For instance, tape measure keychains that doubles up as a handy tap measure while being a keychain is a perfect gift choice for realtors, home maintenance services, tailors, fitness centers and more. Needless to say, your logo and message will be put on a display every time your recipients use their keys or measure up something!
The best part is that custom keychains make subtle promotional items will ensure a 360 degree display for your brand without being a wee bit intrusive. Keychains are available in a wide range of interesting and even quirky shapes. So, you can easily find a model that aligns with your brand. For instance, a house shaped keychains will fit the bills of realtors while truck shaped keychains are  the best way to cut the promotional story short for movers and transport companies.
Just browse along to hand pick a model that you think will match your theme. For more tips or assistance, our product team is only a call away!