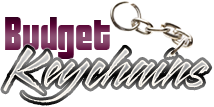 How Logo keychains Make Your Brand Stick
Posted by admin
Posted on April 28, 2022
Save money by making budget friendly keychains as your promotional swag. It is found commonly in households and offices. It is functional and best of all, custom keychains will never go out of fashion because of their simplicity, functionality, and timelessness.
It's easy to use and useful even for children. In addition, keychains will always keep your message in plain sight of your audience and may even engage them in a light hearted dialogue with your brand. But how can such a small product be used to promote your brand? Here are a few solid reasons that underscore the marketing potential of keychains
Versatile
Keychains are highly versatile and hence can be used in countless promotional contexts . You can use it as an on-pack promotional gift, mailer items, trade show swag and so much more. Easy to distribute, custom keychains will  fit into any marketing plan and will ensure repeat impressions  for a long time.
Functional
According to ASI Central, people are likely to keep practical gifts for more than a year. While your competitors are giving out items that are more decorative, you can invest in these functional gifts that will surely get used at home, office and even on the move. Your audience will appreciate the thought and will remember your brand even after the convention is over. Thus the high utility of keychains will help it to win a few extra brownie points.
 Apart from standard keychains you will also find multifunctional key tags like USB keychains or bottle opener keychains that can perform a host of other functions than just being a keychain. These multifunctional Keychains will ensure better utility for the prospects while ensuring dual visibility for your brand. Every time your recipients use it, people around will see it every day. Thus they stay with your target market long enough to create a positive brand association.
Affordable
Custom keychains are affordable and offer tremendous brand visibility since it can be used daily. Why not customize these for your next promotional products campaign?
As trade show swag
Small, compact, and customizable, keychains requires very little time to design, which makes it a perfect event giveaway. Unique and useful, keytags will indeed make a great reminder for your brand for a long time even after the event. The brand printed on the smooth surface,  will definitely serve as your business card. Easy to distribute in person or by mail, custom Keychains will indeed make a great talking topic for you.
Gift Idea for Realtors
Wish to make your brand memorable and build a stronger relationship with clients with gifts? Look no further than house shaped Keychains. For real estate agents, keychains will serve as a great house warming gift that will reinforce bond with your current and future clients. Pair it with other gifts that the new home owners may find useful to make it more memorable.
How do you wish to use Keychains as your swag? Share your thoughts with us on our facebook page.