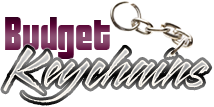 How Custom Keychains Will Help You To Enhance Your Customer Base
Posted by admin
Posted on August 14, 2015
Custom keychains are one of the most popular promotional gifts not for nothing! Practical, budget friendly and long lasting, budget keychains make perfect choice for any marketer. Everyone needs keychains after all for their homes, cars, offices, travel bags and much more. So, can there be a better way to display your logo in front of them other than these business promotional products that people use on a daily basis?
Budget keychains has a well sorted list of keychains in all possible shapes, colors and sizes to match the promotional interests and personal preferences of everyone who stop by this online key tag store! Hand it out during tradeshows, store openings or as part of tote inserts or mailers, no matter how you wish to make use of these promotional gifts, logo keychains will always buy the attention of everyone around. Personalized full color keychains also make great gift favors during milestone celebrations, weddings and corporate holidays.
In the promotional world, keychains enjoy a special role in keeping your existing customers happy and to bring in new customers with consistency.
What makes custom keychains a cut above the rest of the promotional items?
Budget friendly: Custom keychains are easy on your wallets and there are even models that will cost you only a few cents, unlike many other promo gifts. Even advertisers who are on a modest budget will find this gift really effective in getting connected to the users.
Choices galore: Keychains are available in a range of colors and models that it is not hard to choose the one that match your theme. Apart from stylish keytags, custom keychains are also available in combo designs where keytags are paired with useful items like nail clippers or flashlights which will make these promotional gifts more useful in their daily lives. Check out our bottle opener keychains if a party is on your list. There are countless options to choose from and it is good news for advertisers too as more the usability more will be their logo exposure as well.
Versatility: Everyone uses Keychains and hence these can be handed out to all types of customers irrespective of their age or gender differences. Not many people can resist these practical gift items that are designed to look good and last long!
Brand exposure: Custom keychains ensure a consistent brand exposure in a nonintrusive manner. Everytime someone opens their desks, car or doors, your logo will be put on a proud parade. It is these repeated impressions that turn leads into sales and make your promotional campaign a success. Your brand on these stylish keytags will enjoy a strong identity and buy easy attention from the public.
Something special for everyone!
Keychains are available in a range of material choices including leather, rubber, metal, fiber and much more that it is never too hard to find the one that suits your theme. The best thing is that people never seem to get enough of these essential home supplies and are keen on adding new models to their burgeoning collection of keychains. For most people, these delightful gifts double up as souvenirs and collectibles.
Last but not least, these promotional gifts also make thoughtful employee gifts and tokens of appreciation, which will make your team well motivated and loyal to your business. So, what are you waiting for? Make your logo part of their daily lives by handing out these promotional gifts.
Share and Enjoy