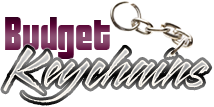 Diverse Target Market? Use Promotional Keychains!
Posted by admin
Posted on July 1, 2020
Promotional products make an excellent marketing technique; however choosing an appropriate item that aligns with your brand and matches the tastes of the audience is easier said than done. If you have a diverse audience that is as different as chalk and cheese, custom keychains will make a safe bet.
Why are personalized keychains such a great idea? For one, these are one of the most useful promotional pieces that you can purchase. Keychains are useful items that individuals won't simply get rid of -no matter how many keychains they already own!
Compact and incredibly useful, custom keychains will serve as an advertisement every time a person opens the cupboard, car or even house door. Keychains are literally everywhere. The best part is that keychains offer a variety of customization options that will enable you to  highlight your logo and message, Choose from a wide range of shapes, colors and models to make your promotions fun and interactive.
What's more, despite their longevity, keychains start at prices just pennies a piece, making these unbelievably budget friendly. With a modest budget you can purchase years worth of advertising and place it within consumers' homes in one easy order. Did we say that keychains never go out of style? So, you can confidently hand out these logo items without the worry of picking up something outdated!
Keychains are also among one of the best items to help you target a wide audience. It appeals to every genre of audience and can be easily employed during mass events like mailer campaigns due to its compact size. Custom keychains are simply an exceptional advertisement technique to get people from any demographic to use your logo items and familiarize themselves with your message.
Easy to distribute
Keychains are light weight and are easy to distribute as mailer items or handout in person during door to door campaigns. These won't take up much of your warehouse space either if you are planning to pre order in bulk for all the forthcoming events.
As tradeshow swag: Your attendees will take home your brand on these keychains. Choose from interesting models like bottle opener keychains that can be used as a bottle opener and a keychain all at once!
As employee gifts: If you are looking for a high utility yet budget friendly custom gift as employee incentives, keychains will ft you like a pair of gloves. Choose a model that complements your event to make it more memorable. For instance, if you are planning to handout these as golf weekend gifts, golf tee keychains will make a perfect option to impress your team.
 No matter why you need customized promo items, a personalized keychain will make a great choice for a cost-effective way of advertising.  Explore our complete line of custom keychains to choose a model that will serve your branding needs.
Share and Enjoy