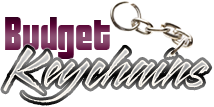 Did You Know That Branded Keychains Can Double Pull As Your Business Cards
Posted by admin
Posted on October 22, 2018
Business cards make the first contact point between your business and your customers by introducing your products and making them familiar with your brand. However, often business cards get discarded, misplaced or damaged, which ruins its purpose. That is what makes custom keychains a great alternative to get your brand right into the hands of your audience in a fun manner. Every time your customers use these imprinted keychains that bear your brand and message, they will grow closer to your brand.
Promotional gifts like keychains make a subtle yet effective way to introduce your brand because your audience will find it as a great daily use item and won't even consider that these are promotional items designed to work for your brand! Keychains indeed work more or less like your business cards but with better results. Research shows that 71.6% of attendees who received a promotional product remembered the name of the company that gave them the product, which further highlights the importance of keychains as effective promotional gifts.
Turn them into business cards
Imprinted keychains can have your contact information, artwork and brand just like business cards. The best part is that keychains will make tangible items that the consumers can use daily, thereby leaving a lasting brand impression in the minds of your audience. A trendy, branded keychain will never fail to grab the attention of anyone who sees it and your brand will get an audience that is wider than you perceived.   You can even print QR codes on keychains to keep your audience engaged with your social media promotions as well.
Referral gifts
Businesses need to have a solid base of loyal customers to ensure repeat business and a solid track record. Personalized metal keychains or leather keychains make great loyalty gifts for your regular customers because these will not just make them feel appreciated but inspire them to refer new clients as well. Make sure to choose high quality custom keychains that will last long because people will associate quality gifts with the quality of your business. Reports suggest that customers who receive a promotional product are likely to support brands 52% higher than those sending just appreciation letters for their customers.
Keychains are warmly received and well retained, which makes it a great option to spread your word and build up a buzz for your business. These daily use items will literally keep your brand in front of the audience, to leave a lasting brand impression at easy rates.
Do you think custom keychains can be as good as business cards? Share your thoughts with us at our facebook page and join the conversation.