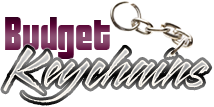 Custom Keychains- Handouts That Hold The Keys To Your Clients' Hearts
Posted by admin
Posted on July 19, 2019
Marketers always look for keys to their clients hearts! Well, it may be as easy as holding their keys when popular handouts like keychains are used. It makes a great gift that nobody will resist.  Keychains make stylish accessories that are omnipresent. No matter who they are or where they are, people need to carry keychains to stay organized and keep their keys safe.
Everyone who owns a car,  lives in a house and has a job needs a keychain to hold the keys. Unlike other accessories like earrings or scarves, the trends of which will change, keychains always remain. It makes a great choice to hold keys together and keep them safe.
Did you know that the Average American Spends 2.5 Days each year looking for lost items? Reports show that it costs US. households $2.7 billion annually in replacement costs! The most common items misplaced every week include TV remotes (45%), phones (33%) and  car & keys (28%). Key tags make a reliable way to carry keys and to access easily. These are used every day and make a handy way to identity a particular key set from  the lot as well.
Choose custom keychains that not just hold keys but ensure added value as well. Multi functional keychains like bottle opener keychains or flashlight keychains offer added functionality than being a plain keyring. You can be sure that your brand will be exposed everywhere for a long time. Classy and useful keychain models get a lot of attention and appreciation.
A keychain that catches the attention of your clients will make an interesting conversation topic among friends. Your clients will love to talk about this high utility gift and will tell others who gave it to them, thereby setting off word  of mouth advertising.
Keychains are available in a wide range of models, colors and price rates, which makes it easy for you to choose the right keychain that suits the needs of your clients.These items  can be customized with your brand or tagline in a classy way so that your clients will not feel like walking banners.
Make sure that the keychains you choose is something that anyone would choose. Opt for interesting models like sports themed keychains or animal shaped keychains to entice them to carry the keychains wherever they go- not just to carry their keys but to flaunt their fashion sense, hobbies or social commitment.
Did you like this post? Be the first to spread the word.