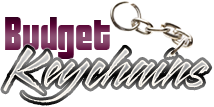 Branded Keychains Make Collectibles That Hold The Interest Of Everyone!
Posted by admin
Posted on August 30, 2018
Keys may be commonly used to open doors, cupboards and vaults, but they also open doors to culture, social issues, sporting events and more that we often didn't know existed. The ever increasing populace of people who take up the hobby of collecting keychains (copoclephilists) in itself is the proof for the incredible popularity that these humble and nondescript items enjoy among humans. However, not many people think of buying keychains that they need to keep their keys safe and to stay well organized. This is one of the reasons that make promotional keychains a rage all over the world.
Available in a range of material choices and models like metal, leather and plastic among many others, custom keychains can be customized with brand and message. A trendy keychain that bear an interesting tagline, artwork or mascot will hold the interest of anyone who sees it. Keychains often change hands, which means that your message on these will reach a wider secondary audience in the shortest time possible.
There are even 'Keychain Collectors International' groups in social media where people exchange logo keychains.  Even when keys are being slowly being replaced by electronic swipe cards, keychains will continue to be popular daily use items as they can hold their cards and other small items like lanyards or flashdrives together on a trendy keychain!
Offered in a mindboggling range of models like bottle opener key chains, sports themed keychains, multi tool keychains and more, it is easy for marketers to pick up a model that will appease their target audience. Keychains imprinted with tourist attractions will make delightful tourist souvenirs for tour companies. Unlike most promotional items that get shoved away and are forgotten about, custom keychains will make a highly practical logo item that everyone needs many times a day. Every time they open or close their doors or filing cabinets, they will be reminded of your brand and message.
Multifunctional keychains like flashlight keychains will have a higher ROI than ordinary keychains, which in turn make them a favorite staple in the marketing mix of businesses.
Here are some keychain models that will leave your audience truly delighted
Tape measure keychains: The DIY enthusiasts among your customers will truly find these logo items useful. No matter they use it as a tape to measure those garden hedges or kitchen cupboards, they will be reminded of your brand and message. These high utility gifts will often get exchanged, which in turn will further increase your brand visibility.
Whistle keychains: Fall season is a great time for campers to enjoy the unexplored! Whistle keychains will make a great safety item for their kit to attract the attention and seek help in case of an emergency.  You can even use it as a referee whistle during the game days. These brilliantly colored keychains will ensure a great display for your brand. Try it!
Need more? Explore our collection of custom keychains and choose a model that matches your needs.