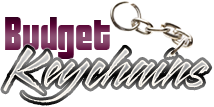 Beat The Competition On A Budget With Custom Keychains
Posted by admin
Posted on September 4, 2018
The biggest challenge for any business owner is to cut through the promotional clutter and to make his brand stand out. In a fiercely competitive field, it takes far more than the ordinary to impress the audience.  When the advertising dollars are limited, marketing becomes all the more difficult especially for small and medium-sized operations and that is where customized giveaways like imprinted key chains come to the bigger picture.  These daily use items will remain a tangible reminder of your brand and message and make consistent brand impressions without any repeat effort or investment.
When compared to other forms of advertising like news paper ads or radio spots, promotional gifts like keychains offer the best bang for your business buck. Custom keychains are one of the top three most popular business giveaways. Offered at ridiculously cheap rates of just a few cents per unit, keychains are one of the most economical gifts. Small, compact and portable, keychains are easy to distribute in massive promotional events like tradeshows. The best part is that it can be easily carried in pockets or purses so that you can always be ready to dole out more than one should the need arises.
Keychains offer great customization options as these can be imprinted with artwork, message or mascot. Practical and universal, keychains are something everyone needs. In fact a family needs an average of over 5-6 keychains to keep their different sets of keys safe and well organized. So, you can imagine the popularity that these ubiquitous items enjoy.
Promotional key chains that are the most popular are the ones that serve dual purposes. A keychain that functions as a flashlight, tape measure or bottle opener will be put to use immediately and the best part is that these grab easy attention from everyone around.   Double the functionality will mean more potential for your brand to be remembered.
Here are some tips that will ensure more value for your promotional keychains.
Quirky shapes grab easy attention
Choose novelty shapes like sports themes of animal shapes in custom keychains to pique interest among the users.
Pick bright colors
Brilliant colors will stand out better and will highlight the logo printed on them nicely.
Choose from different material choices
Make sure to engage people's senses by handing out keychains in unique textures and materials. Choose from leather, metal, plastic or acrylic keychains to suit the needs of your target audience for maximum impact.
Have you used promotional key chains in your promotions? Share some tips that have helped you to reach a wider audience while being on a budget.
Share and Enjoy