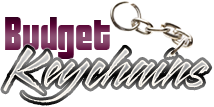 Attributes Of Custom Key Chains That Make Them Popular Promotional Items
Posted by admin
Posted on August 4, 2017
Promotional keychains are one of the most popular choices among marketers worldwide. There can't be anyone who doesn't have one or more promotional key chains in their collection. The low cost advantage of keychains will make it possible for marketers to dispense these logo items without any serious budgetary concern. It is interesting to note that custom keychains are not just highly popular among the masses but double up as effective custom gifts to promote brands and causes.
The four major attributes of custom keychains that make them effective marketing tools include advertising space, usability, appeal and longevity.
Impressive advertising space
Custom keychains ensure ample advertising space per scale that let marketers to place their brand message and information in a strategic position to grab the undivided attention of the audience. Keychains can be imprinted on both sides to make them attention grabbing promotional items.
Usability
Everyone needs keychains to keep their keys safe. The immense functionality is probably the biggest attribute of promotional keychains, which make them priceless among custom gifts. Combo keychain models like bottle opener keychains or multi tool keychains will make attractive options too. However, it is recommended to investigate the specific preferences of your audience before choosing a keychain model to make sure that your recipients like what you give.
Trendy
Keychains are offered in a range of attractive styles and designs. Be it the classic models, the colorful novelty models or eye catchy shaped keychains or more, you have a lot of options to consider in custom keychains. Choose a model that will appease your target audience and will match your budget and promotional theme for the best outcome.
Durability
Most keychains are designed to last a long time, which in turn will keep your brand information right in front of the eyes of your recipients 24 x 7. Most people will be comfortable using the same keychain as long as possible as the different colored keychains are the best way to identify similar looking keys for most ordinary mortals like you and me!
Budget friendly
Custom keychains make high value promotional gifts that will ensure the best return on investment as well. These budget friendly items are well suited for mass mailer campaigns and large scale promotions like tradeshows. Having one of the lowest costs per impressions, custom keychains produce consistent impressions for your brand.
PS: Did you know that most people never bother to buy a keychain for themselves even though they use it on a daily basis? Well, this could be another solid reason that makes custom keychains popular promotional items.
If you have more to add on to the promotional qualities of custom key chains, feel free to post it in our comments section
Share and Enjoy