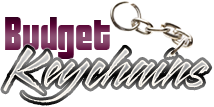 6 Best Ways Use Custom Keychains to Promote Your Brand
Posted by admin
Posted on December 19, 2022

Marketers adopt diverse marketing strategies to make their brand stand out and spread the word. One such way to promote your business is by using daily-use items like custom keychains with your business information printed on them. Everyone uses keychains many times every day to access their keys . Thus your brand on it will remain in the eyesight of not just your recipients, but people around who will see them. This can help in creating a brand image for one's business as people will be exposed to it on a regular basis.
Long lasting
Custom keychains last for a longer time compared to other promotional giveaways. Thus logo keychains create consistent impressions at one time investment. Interestingly, most people wont even consider replacing their keychains as long as they work once they develop an affinity towards it.
Choose the right material
Keychains are available in a wide range of models and materials. From classic models like metal keychains and leather keytags to something fun like plastic keychains and combo models like bottle opener keychains, you have something special for everyone.
Easy to customize
Logo keychains offer diverse imprint options right from screen printing to laser engraving and embossing among others. Choose an appropriate printing method that will retain your design for a long period. Thus custom keychains make consistent impressions for a long time at one time investment.
Know your target audience
Consider the demographic of the audience or potential consumers, while planning promotional strategy. Handout your custom giveaways to people who might be seriously interested in your product or service. A targeted promotion will bring in better results and will ensure better utilization of your promotional dollars.
The purpose of your campaign
Another important thing to consider is the purpose of your campaign. No matter whether you wish to reach out to existing customers, make new leads or enhance brand exposure; custom keychains will make a great promotional swag to consider. Versatile and highly functional, keychains will fit every promotional theme with ease. Choose the most trending models in keytags to draw easy attention of your prospects.
Customization is the key
Think creatively on what to print on keychains. Moreover, do not limit your imprints to just the logo or contact information. A keychain with only this basic set of information can be boring for your target audience to be using it daily. So, add an interesting artwork or anything else that you wish to convey to your audience, to make it unique and interesting. Your recipients will surely be enamored by this limited edition of branded keychains, that not many people may have.
Adding an artwork or design on keychains will encourage the recipients to check out the keychain a bit more closely. It will even make it a conversation starter for your brand among the social circles of your audience.The information printed on the keyring can also vary, based on the purpose the keychain. For instance, if the keyring is used to promote a new product, you can include information about the new product that you are planning to launch. It will build up a buzz about your brand; and will set off word of mouth publicity as well for your business.

Need more ideas? Reach out to our team to stay on top of the trends.