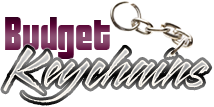 Happy Customer Stories # 4- Custom Round Acrylic Keytags As Grand Opening Gifts
Posted by admin
Posted on September 6, 2018
A wise man has rightly said happiness gets doubled and grief halved upon sharing! We make it a point to share the stories of our happy customers who come back to us often. In this edition, we have great pleasure in introducing our happy customer Gogo Heinrich, who needed a popular yet budget friendly gift for her guests during the ribbon-cutting ceremony of her new stores. She opted for these crowd pleasers of 1.75 Inch Custom Printed Round Acrylic Keytags that are made to last long and look great. The generous imprint area of these keychains was put to use to highlight the brand and message of your organization.
See what she has to say about her experience at Budget keychains
Order tracking was good – key chains arrived on time
She decided to opt for these acrylic keytags because these are resilient and well cut for the rough and tumble of the daily lives, which in turn would enable her customers to retain it for long.  She had an attractive design in place, which made customization process swift and easy.
As it was a ribbon cutting ceremony where some curious onlookers could drop in, she had no clue on the exact number of expected attendees or the type and age group of her audience. Luckily the low price advantage made it easy for her to order in excess so that she can hand out a token gift to anyone who drops in.  By placing a bulk order, she could grab an unbeatable price advantage of less than 1 dollar per unit for her custom keychains.
The best part is that keychains make great gifts that will impress every genre of audience irrespective of their age or gender. Everyone needs keychains afterall to manage their n number of keys, which is another reason for the incredible popularity of keychains.
Acrylic keychains are light weight unlike metal or leather models, which makes it easy for everyone to carry them around. Nobody would like to add on to the weight that they need to carry in their wallets or pockets after all! The brilliantly colored background made the promotional message stand out in style. The imprint colors of the keychains perfectly matched with the theme of the event, which accentuated the overall effect.
The cute dainty keychains will grab easy attention of anyone around and she can pass these off as her smart business cards in a way! We are as happy as our customer at the popularity enjoyed by these smart keychains in her promotional event.
We would be keen to know your favorite keychain model and your experiences of using them as logo items. Do share with us at our facebook page to get featured!
Share and Enjoy