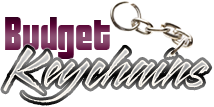 Why is it Easier to Promote Your Business through Custom Plastic Keychains?
Posted by admin
Posted on March 19, 2014
In this highly precipitating economical climate, most companies are trying to downsize their promotional budget and stick to options, which offer them long term visibility at lowest cost. By looking at options you will find that there are vast selections of promotional items, which are cheaper and can be easily customized with logo and serve longer than others, such as custom plastic key chains.
What makes them different from other regular custom key chains?
Knowingly or unknowingly most marketers expect their promotional gift to score on three AAs-
Attention, Adorability & Affordability- And customized plastic key chains easily fit and fulfill the requirement of these three A's. You can grab the models, which come costlier at $2+ and ones which cost lesser than ten cents. This means you can save huge lots of dollars while buying them in bulk.
Compactable- Although key chains are compactable in total, but plastic ones are extra compactable due to their weight. They are great way of getting closer to your targeted audience because recipients would love to manage them within purses, pockets or bags for carrying keys to their homes, offices and cars, etc.
One for Everyone – Today you will find plastic keytags in all sizes, colors, shapes and budgets to suit customers belonging to all demographics. If you are targeting kids, then a goofy key chain will be the right one. If you are targeting globe trotters go for multi tool keychains fitted with compasses, knife, screw driver bits, whistles, etc. If you are targeting party hoppers, then it is perfect to settle for a key chain fitted with bottle opener and for sports fanatics you can always settle for key tags in shape of baseball, football, etc.
By narrowing down your choices, you can easily find the model that perfectly relate with your brand and business requirements. For example, car charms keychain serve perfect for gasoline stations and automobile manufacturers, while sports businesses can avail plastic key chains with holders in sports-related shapes, construction businesses can go for hard hat key chains with flashlight, computer mouse keychains work great for computer businesses, food keychains work great food marketers, etc.
Tradeshow Giveaway – As indicated before, plastic keychains make a good tradeshow giveaway and you can avail exciting discounts by bulk ordering them from any reputed online keychain store. You can select these keychains as per the requirement, target audience, marketing budget and many more. Being light in weight they are easily manageable within bags, purses or bag packs. Most reputed online custom stores offer them in riot of colors, budget and you just need to make the right choice, get them customized with your logo or brand information prior to gifting.
Along with attractive price benefits on bulk orders, you can always avail advantages such as free shipping, free art set up and free online design proof on all orders.