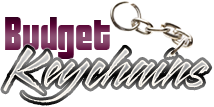 What Do Customers Expect from a Custom Keychain?
Posted by admin
Posted on October 10, 2014
Custom keychains can easily become brand builders and relationship catalysts for anyone because a "key" is the key for our social wellbeing and security. They are affordable, compact, adorable, and one of those practical items that people love the most and are required to carry at all times. Here are some reasons why we feel that custom imprinted keychains make an apt choice for value building –
Affordability – If you are searching for budget-friendly promotional gifts, then custom keychains are your choice because you can grab them at price lesser than a dollar. You can even get a multifunctional bottle opener keychain at something half a dollar for orders up to 500. Flashlight keychains are most popular on the gifting scene because everyone finds them indulging and they can easily give great exposure to logo.
Versatility – Apart from being budget friendly, logo imprinted custom keychains works perfect for any theme and industry. Suppose if you plan to reach out golf players, go for vinyl custom keychains or if you plan to reach out to partygoers, gift them logo imprinted bottle opener keychains, or if you are trying to woo your loved ones on Valentine's Day, settle for a pretty heart shaped keychain and so on.
Variety – Custom keychains can be availed in different sizes, shapes, functionalities, and budget. They can be aptly categorized according to their –
Material of Construction – Plastic, leather, wood, metal and recycled keychains.
Most of the stores of repute that stock these promotional keychains offer you the choice to shop by colors, purpose, prices or shop by theme or industries.
Perfect for all Ages and Seasons – Splitting this term we would say that a custom keychain stands perfect for all ages and make one year around gifting choice. Be it a student, teacher, parent, officer, business owner or anyone, they all require a secured hanger to manage their keys. Therefore, an adorable keychain will easily come to their use. Kids and children also have penchant for flashlight keychains and they love to use it for playful purposes.
Make a Great Tradeshow Giveaway – You can always indulge with these promotional keychains irrespective of your trade, business size, or budget size and manage them in bulk without any hesitation. If you are planning to employ them as tradeshow giveaway, you can carry them in bulk without weighing your shoulders and purse (attractive bulk order discounts can be availed at reputed online stores selling these keychains). Being compact and easily manageable, people love carrying them at all times and these keychains duly help to forge closeness with potential clients.
Free art setup, free online design proof and great price rates are some of the other benefits that you can enjoy while buying from a reputed online store stocking custom keychains.