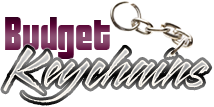 Promotional Keychains Will Turn The Focus On To Your Brand
Posted by admin
Posted on June 19, 2019
Keychains are practical items that are used every day. Customize these with your logo and turn them into something your customers will be happy to see at their home or office. Available in almost every price point, keychains turn your brand portable and popular without being too pricey! Customize the keychains with your brand, tagline or any other interesting promotional information.
Keychains are offered in ridiculously low prices, which make it easy for marketers to shop in bulk quantities. Logo keychains will get your brand into as many hands and pockets as possible. We have been using old fashioned keys for thousands of years. May be we don't need anything more advanced. At least that is what the incredible success of keychains tells us.
Even when biometrics and keyless security systems are available in the market, most people still prefer to use the conventional lock and key system to secure their homes and offices. It is easy to use for everyone including those who may not have technical know-how. So, as long as keys continue to be in use, people need keychains to keep their important keys safe and well organized.
The best part of keychains is that it is available in a wide variety of material choices, price rates and shapes. There is indeed something special for everyone. Novelty keychains are traffic stoppers at their own right! If you need something that will leave your audience in awe and still let you stick to your budget, keychains will make a great bet. Choose from a range of curious models to draw easy eye balls. Shark Bottle Opener Keychain Rings will help your brand to be a shark in the business world by executing your marketing strategies with precision. The bottle opener that comes with these keychains will enhance its utility thereby making a high value promotional gift for your audience.
Looking for something classic and elegant that will suit the fine tastes of your high value corporate clients? Metal keychains will make a great choice. Offered in various designs and finishes, these keychains will earn the most strategic spots in the homes and work spaces of your clients.
Our personal choice has been these Happy Mood Maniac Stress Reliever Keychains. These cute smiling faces will spread happiness and leave your audience smiling even on a boring day. Needless to say, your brand and message imprinted on these will get a lot of attention for sure.
Which of these keychains are your favorites? Share your thoughts with us on our facebook page to join an interesting discussion.