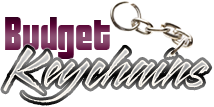 Keychains Are Popular Branding Media
Posted by admin
Posted on May 17, 2022
Keychains enjoy an incredible versatility and are useful even for other purposes. Apart from being a safe and stylish way to hold keys, multifunctional keychains like bottle opener Keychains or tapemeasure keychains can perform other routine tasks that the consumers will be pleased about.
Though everyone needs keychains in their daily lives, not many people remember to buy one for their own use. This is why custom keychains will always remain as popular freebies. Your recipients may need it for their home, office or on the move. So, even if you hand out keychains more often, your logo gifts will get great attention.
Here are some more benefits of keychains that you probably didn't know.
Cheap
Keychains are low-cost promo products and hence can be deployed in mass events like trade shows and mailer campaigns without breaking your budget. Further, keychains are useful and versatile giveaways that will ensure the same brand exposure than any other promotional giveaways.
Customizable
Keychains are also easy to customize as you can add your logo, tagline or artwork on its high visibility imprint space to make unique models that everyone will find useful.
Versatile
Keychains are highly versatile giveaways that can be used in various promotional strategies. Whether your recipients use it as fund raising items, mailer items or something more , these logo items will never look out of place in any promotional context. Keychains are useful for all types of businesses like car showrooms, retail brands and even charity organizations. You may even offer them as trade fair souvenirs, gifts on-pack, or corporate gifts. The possibilities are endless!
High visibility
The best part of custom keychains is that these will stay in plain view of the audience at all times. Thus your brand and message on these will get consistent exposure, wherever they go.  Did you know that a consumer needs to see a brand at least nine times before they can have recognition about your brand. Thus  repetition is a big part of any successful advertising campaign. That is what makes logo items like keychains a  huge success; because these are ever present in an office, kitchen, or car help to ensure your brand gets plenty of exposure.
Creating on top of the mind awareness
On an average, a person sees thousands of advertisements every day, most of which will not even leave any impact in them. However, a promotional keychain is an ad that isn't primarily an ad. It's a free gift, which everyone will find useful and even love to show off . It is this subtlety that makes keytags a great choice as promotional giveaways.
If you think promotional Keychains can be a brilliant aid to your marketing strategy, reach out to our team to get started. Be sure to check out our comprehensive and ever-expanding list of keychains for inspiration