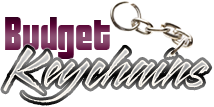 How customized Keychains Can Increase Your Leads?
Posted by admin
Posted on April 19, 2019
Custom keychains are one of the most effective promotional marketing tools because they put your brand on a wide display wherever your recipients go. Businesses will find custom keychains a great choice to highlight their brand identity among their audience and to strengthen their business standards.
If you are thinking "can there be a fool proof way to target your customers?" The answer could be promotional gifts like keychains. It is something everyone needs in their everyday lives; they are easy to distribute and store and above all fall well within the promotional budget of even small and medium businesses.  Keychains are very effective to bring back your old customers also.
Here are some good reasons that make custom keychains the best promotional items
Keychains are inexpensive: Planning an effective promotion at easy rates is one of the most challenging tasks for most marketers. But when they have custom products like keychains as their marketing items, they have a stylish gift item at ridiculously low rates. The big plus- keychains are available in a wide range of models and styles, which means it is easy for you to handpick a model that suits your specific needs. Bottle opener keychains will make a great choice because it will double pull as a bottle opener during parties and events while having a keychain in hand.
Highly functional:  The best promotional giveaways are always the most functional. Keychains will make a highly useful custom gift that nobody can resist. Every family uses at least 6 keychains to keep their keys safe and well organized and there is room for more! So, anytime you decide to handout these popular handouts, they will get a red carpet welcome. Choose combo models like flashlight keychains that will bring together the dual convenience of a flashlight and a keychain. Your recipients will love these combo items that fulfill their needs and will drift towards your brand instinctively. Handing out useful gifts like keychains is a subtle way of conveying the message that you care for your audience.
Portability: Building brand image is the basic idea of every promotional campaign in the market. Keychains will make sure that your brand gets the best exposure and put your brand in plain view of the public many times a day thereby reinforcing the brand image. The best part- you don't need to put in repeat effort or investment.
Choices galore
Keychains are available in various material choices including metal keychains , leather keychains and acrylic keychains. So, you can choose the most trending models doing the rounds and leave a lasting impression among your audience. Your brand and message imprinted on these fashionable keychains will get a lot of attention and appreciation. The changing fashions in keychains will make it easy to highlight your fashion forward profile as well.
Need more tips? Watch this space to read more about the latest inputs from the world of promotional keychains.
Share and Enjoy