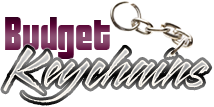 How Custom Keyrings Can Promote Your Brand
Posted by admin
Posted on May 20, 2022
Keychains may not ring a bell in the minds of marketers as a unique giveaway. However, these ubiquitous and  understated gifts make a great addition to any marketing plan. Wondering what makes keychains a brand building tool even today?
Here are some of the winning traits of custom keychains that will work in the favor of your brand.
Classic gifts that stood the test of time
Keychains are obviously one of the most promotional items in the business world. Marketers have been using custom keychains for a long time now and it is here to stay forever.  Businesses can even order in bulk  so that they will always have popular promotional items to distribute no matter what season it is. There's never really a wrong time to hand out custom key tags; you can even use it as a smart alternative of business cards to spread your contact information.
Portable
Ideally the best promotional items are something that your recipients can freely carry around. People may not  prefer to get bulky items that are too heavy to carry around. Small and light weight, keychains won't even weigh down your pocket. In addition, you can choose multifunctional models like bottle opener keychains that offer the dual convenience of a bottle opener and a keychain alike. Carabiner  keytags that can be easily attached to bags  or purses are the other models that you can consider.
Incredible shelf life
Put your brand on a promotional item with a long shelf life to ensure consistent impressions. Every advertisement has a lifespan. So, invest in long term giveaways like keychians that will keep your message in plain view of your audience for a long time unlike conventional ads like TV ads that flash by in a few seconds.
High utility
Custom keychains are something everyone needs. Highly practical, keychains will never lose its purpose for the prospects, which make it a value added gift that is hard to resist. Keychains are not influenced by the changing seasonal trends or fashion elements. Keytags in any form will get a warm reception among your audience as long as they work! Once the recipients attach their keys to these keychains, it will remain with them for a long time. Most people won't even think of replacing their keychains once they develop a familiarity with it.
Easy to customize
You can make the most of the imprint space of keychains to place your logo and design to make it a great billboard for your business. Further, come up with an exciting design that will grab easy attention of your prospects
Now that you have an overview of some of the unbeatable advantages of custom keychains, it is indeed time to invest in these crowd pleasers. Explore our complete line of keychains to choose a model that you will find interesting.