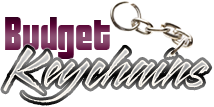 How Custom Keychains Can Build Up a Successful Marketing Campaign?
Posted by admin
Posted on January 29, 2016
Let's be frank about it! Custom Keychains are popular promotional items, but not necessarily for the reasons you might think! A personalized keychain imprinted with your logo and message will promote your brand in a subtle and soft manner without even being a wee bit intrusive. These nondescript little items that are never too far from your recipient's view will serve as a constant reminder for your brand. Another big plus is that keychains are in use everywhere! Be it in office, school or home, everyone will have to manage multiple sets of keys and to keep them all well organized and safe, they may require keychains. This is what makes these budget friendly gift items of keychains always in demand.
We have a range of custom keychains that can be employed for your next marketing campaign. Here are some of the popular models that can be considered for your promotions.
Novelty keychains : Looking for a keychain that will never go out of trend? Look no further than these novelty keychains that are available in a range of shapes, sizes and machine polished finishes. Put on your thinking cap with your artwork and incorporate it into the keychain design and make your company information stand out.
House-shaped keychain : One of the biggest dreams for anyone is to own a home of their own! With a fresh set of New Year resolutions on their desks, the urge to buy a new home will be stronger than ever before for most people, which means that it is busy period for realtors. This little keychain that holds a lot of symbolic value will make a perfect hand out to promote their business and services. The delightful home shaped keychains will tell a lot about your message just by their typical shape. Most customers plan to buy houses in the spring and summer seasons, so don't wait as our stocks are literally flying off our shelves!
Hat Shaped keychains : These yellow colored construction-hat- shaped keychains with bottle openers make a perfect option to promote construction companies. Beautiful to behold, these logo items are great for new home owners when you are handing over the apartment. They will surely cherish your hard work, commitment and goodwill every time they see these logo gifts.
Apple-Shaped tape measure  Keychain : Combo gifts that offer the advantage of more than one have always been a trend and this keychain is no different. This attractive keychain will allow your recipients to carry their tape measure anywhere they go. These will make a perfect gift for all types of your recipients as everyone needs to use a measure tape sometime or the other in their daily lives!
Share and Enjoy